January 15, 2016
Shae Aiello
In essence, an offset account is a way of saving for a rainy day, in a transaction account, while still getting all the benefits of having used those savings to pay off your home loan.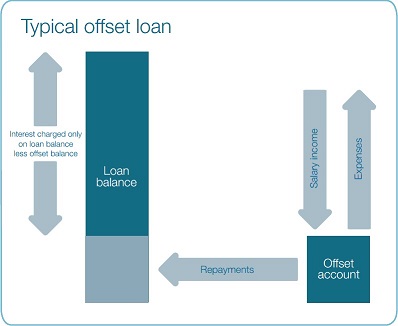 But how is it different to simply paying extra on your loan and being able to redraw that extra on a rainy day?
Simply that the "extra" is in a separate transaction account. Otherwise, the math works the same way, as if you'd put the extra money into the loan.
Lenders calculate your home loan interest on the balance each day, and then at the end of the month they add all those daily interest charges up and charge the total to your loan account. This is your monthly interest. If you're on an interest only loan, it's the minimum amount you're required to repay.
On any day where there's money in your offset account, the lender subtracts this from your loan balance before calculating the interest. So the money in your offset account is "offsetting" your home loan interest.
So if you have some extra cash for any reason, an offset account can be a great place to put it.
There are also a couple of very important tax considerations to make with regard to offset accounts that seems to make it an even better option than you might otherwise think, but that goes beyond what we as mortgage brokers can advise on. To help out, we asked our good friend, Rhett Hollick of AMHR Accountants, to share his thoughts, and you can find his advice in Part 2 of the series.
To help illustrate the topic of offset accounts even further, our home loan expert Tim Kerin (an obvious Star Wars fan!) has also written Part 3 of the series, which uses a Case Study to help further explain and clarify.
To help understand some of the other tricky home loan related terms, check out our blog posts explaining: