We thought you might find this service useful
Maroubra Conveyancing
Maroubra Conveyancing offer many years of experience in dealing with a multitude of property and conveyancing transactions. These range from representing the First Home Buyer to acting for experienced property investors with large property portfolios. Furthermore they have experience in advising clients on off the plan purchases where a developer is selling apartments before the property is completed.
Other services include advising in company title sales and purchases; acting on behalf of vendor clients wishing to sell their property; providing independent legal advice on behalf of guarantors and providing legal advice in relation to clients who are refinancing their mortgages. Obtaining strata, building and/or pest reports is another example of the service that can be provided to our clients.
Maroubra Conveyancing is operated by qualified solicitors, which means assistance in other areas of law outside property/conveyancing is available. For example drafting of Wills, challenging Wills, retail and commercial leasing, purchase of business and acting on probate/letters of administration and court work/general litigation. These services are all provided through our legal division of Nicholas George Lawyers.
So as you can see the offering is vast, the service will be first class and extends to cover those whose first language may not be English as the team can converse in Indonesian, Greek and Hebrew.
Maroubra Conveyancing
p) 9314 0106
f) 9386 0460
e) lydia@nglawyers.com.au
Looking to Sell Your Property?
Look no further then Ken Smith - Licenced Real Estate Agent
Ken is a high achiever who relishes the competitive nature of real estate. Having lived locally all his life Ken speaks from the heart when it comes to his love of the area. Ken is an active member of the community and shares his success by passionately supporting a number of local charities, schools and sporting organisations.
Combined with 20 years experience as a local area Real Estate Agent, Ken's knowledge is unmatched and his commitment and honesty is obvious in the way he communicates with his clients. Ken has established himself as a trusted vendors' advocate exceeding the expectations of his clients and resulting in an excellent sales track record in the South Eastern region of Sydney.
A highly respected and valued member of the N.G. Farah Real Estate team, Ken believes their innovative and professional approach to all areas of Real Estate has set them aside as a true market leader.
Contact Ken now!
m) 0417 218 437
e) kens@ngfarah.com.au
w) ngfarah.com.au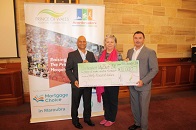 Prince of Wales Hospital - Sponsorship
Mortgage Choice in Maroubra has been a proud sponsor of the Prince of Wales Hospital Foundation Heartbreakers fund raising team since 2007. Over this time we have helped raise funds to support the needs of various departments within the hospital. We were honoured to again be associated with this worthy campaign in 2016, and inspired to continue our assistance through the enthusiasm of the many selfless volunteers at the hospital, who are the true champions of this cause.