Home loan and finance specialist Caroline Springs, Taylors Lakes, Melton and surrounding suburbs.
Looking for a home loan? Talk to Greg Vine, your local Mortgage Choice broker from Caroline Springs, Taylors Lakes & surrounds in VIC. Let us research and compare over 20 lenders for you.
Call Us
Office - 0401 957 256
Fax - 03 9005 2708
Open Hours

Monday - Friday: 9:00am - 5:00pm


After hours by appointment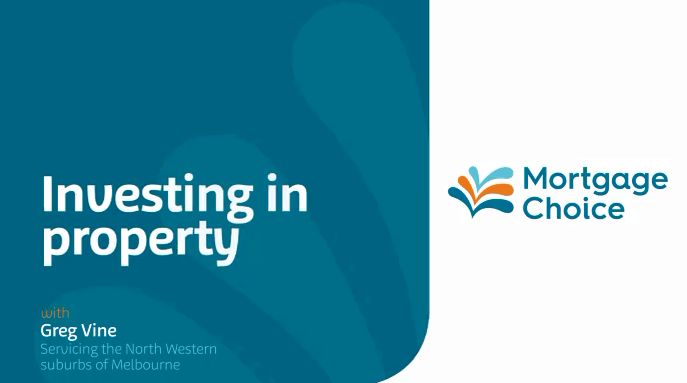 Give yourself the benefit of choice
Asking one bank or lender is not necessarily a choice.
That's why talking to Greg Vine and his team of home loan specialists at Mortgage Choice makes good sense to help you achieve your goals.
We analyse hundreds of home loans from over 20 different lenders - all at no cost to you because the lenders pay us. In fact, it's our goal to help you save time and money with your next loan.
You enjoy a real advantage no matter whether you are:
A first home buyer
Buying a new home
Refinancing your current loan
Investing in property.
We also provide:
car loans and personal finance
a unique range of commercial finance.
No cost to you
Our home loan service is of no cost to you as the lender pays us after your loan settles.
More convenience for you
We know how you feel about call centres and 9 to 5 branch hours that's why we come to you - 7 days a week, at a time and place that is best suited to your schedule.
We are the local Mortgage Choice home loan broker for Sunshine, Taylors Lakes, St Albans, Deer Park, Kealba, Hillside, Burnside Heights, Cairnlea, Keilor, Melton, Kurunjang and Eyensbury.
We're with you every step of the journey
From finding the loan that's right for your circumstances, to completing your loan application and tracking its progress through to settlement, you'll benefit from our support at every stage.
Call Greg Vine at Mortgage Choice in Brimbank / Melton today on 0401 957 256 or 03 9802 3620.
The right home loan for your needs
Our mission is to find the right home loan for your individual needs and to always have your best interests at heart. Plain and simple. Which is why we have such a wide range of lenders to choose from. We can search through hundreds of products to find something tailored to your situation. ~
We would just like to say thank you for helping us obtain the home loan for the purchase of our first home and for being cool calm and collected throughout the process. We will have friends of ours in the future who will be purchasing a home and we will definitely recommend to go through Mortgage Choice.
You have been such a fantastic help and very prompt with your replies from the very beginning, and I thank you so much for this as I have not received such great service from anybody else that I have previously dealt with. You have been fantastic and a pleasure to deal with.
Once again thank you ! If you ever come across someone who would like to hear from someone you have assisted please do not hesitate to give them my number, I would be more than happy to let them know how fantastic your services are.
Now we've met and seen what's possible, don't think I'll be going back to a bank anytime soon. Thanks again for the advice and help.
Greg is a very professional mortgage broker with honest attribute and very helpful. He is so friendly and proactive.
Thank you ! I would like to thank you for all your help in getting my pre-approval, application and settlement done so smoothly.. I really appreciate everything... Thank you once again!
A Mystery Shopper scored our service at 98 out of 100, raking us 3rd in a National review of 100 brokers. Copy of report available on request. May 2015.
We are actually returning customers of Greg Vine and can not speak highly enough of the service we have received over the years. I would imagine we would have been at the more difficult end of the scale given some of our circumstances but from day 1, Greg was confident he could get us a great deal (which he did) He went above and beyond to keep us informed and continued to use his connections to get us in our house on time when it was not looking likely due to circumstances outside of our control. Our conveyancer even commented that his conduct was of the highest standard...much higher than they're used to seeing and that we had found a 'good broker' in Greg. He is clearly very knowledge and has a great deal of industry experience which was exactly what we needed to help get us the result we needed. We were initially reluctant to go with a broker but Greg's professional yet friendly nature made the whole experience very easy with minimal fuss. We will likely never purchase another property without Greg. Thanks again!
The exceptional service of Mr Greg Vine his product knowledge and helpfulness was amazing, I would definitely recommend the services of Greg to anyone that I know.