Updated 30 April 2021
Investing in the Queensland property market can have many benefits, depending on what your goals are. As Queensland is a large state with many different regions and lifestyles, it is likely that an area is right for your investment journey.
Queensland Housing Market
The Queensland property market is currently experiencing a boom across all regions. In February 2021, property reports from CoreLogic indicated that almost every region in Queensland saw growth in prices - with Townsville the only region to see a 0.6% decrease1. 
Historically, the median sale prices of properties in Queensland have been quite stable with a gradual increase over time. The below graph2 shows that over the 11 year period from March 2009-September 2020 the median prices in Queensland have increased from approximately $375,000 to $462,000 with a growth rate of around 2.21%.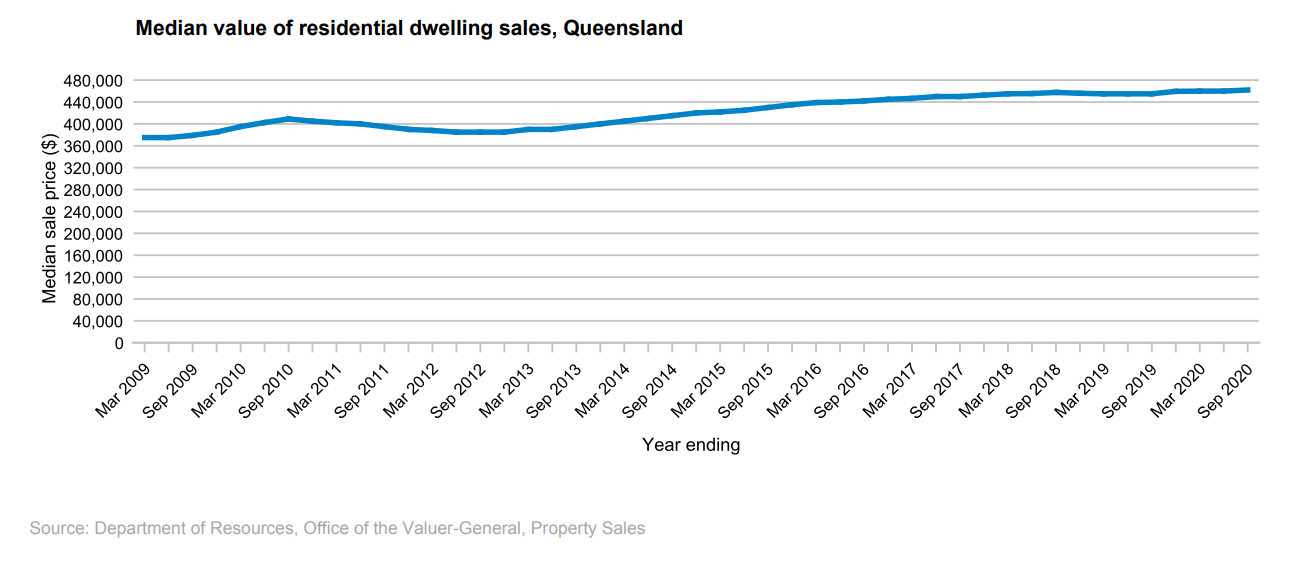 Unlike other states in Australia, Queensland's housing market defied the economic predictions caused by the COVID-19 pandemic and managed to thrive in 2020. In her December 2020 Quarter analysis, REIQ CEO, Antonia Mercorella highlighted that the rise in prices and interest in Queensland's property market can be attributed to strong interstate migration, especially in areas such as Sunshine Coast and Gold Coast3. This boom has resulted in the property market for 52 out of 56 (93%) regional Local Government Areas (LGAs) recording positive annual growth.