Updated 06 May 2021
Since 2002 Melbourne has consistently ranked in the world's top three livable cities by the Economist Intelligence Unit's (EIU) Global Liveability Index, even taking out the top spot for 7 consecutive years from 2011 to 20171. This achievement has made Melbourne an ideal location for international and national migration and has resulted in the demand for the city to steadily increase every year. 
Melbourne Housing Market
When investing in property, an understanding of a location's housing market in relation to current and previous trends can be beneficial. Melbourne's property market has historically been one of the top performers in Australia.
The popularity of living in Melbourne can be reflected in the median house and unit prices of the city as shown below. From December 2003 to 2020, both the house and unit prices in Melbourne have experienced significant growth with houses increasing from $320,000 to $750,000 and units seeing an increase from $285,000 to $605,000.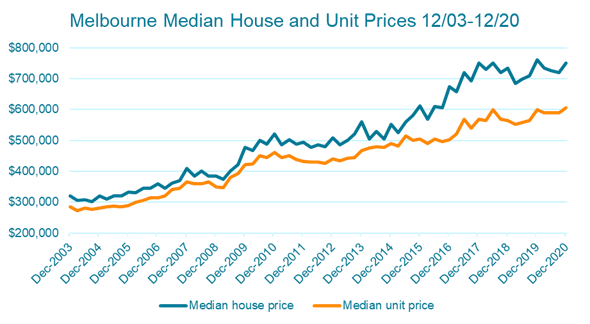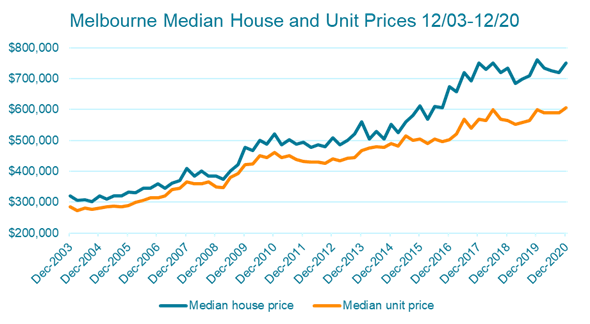 Source: Median price (unstratified) and number of transfers (capital city and rest of state)
Of course, 2020 was particularly rough for Melbourne as it experienced the longest lockdown period of any capital city in Australia. This resulted in the median house price seeing a 1.57% decrease in December 2020, compared to December 20192. However, despite the decrease in median house prices, units in Melbourne managed to see a 0.83% increase over the same period. 
Despite a difficult time in Melbourne in 2020, the resilience of the property market has been evident as in early 2021 we are starting to see an upward trend in the market. Following the trends of other capital cities, in April 2021 Melbourne's housing market is recording a 1.29% growth month on month on Corelogic's Home Value Index3.
This steady recovery and resilience to COVID-19 in Melbourne's housing market can be attributed to many factors such as the historic low interest rates, mortgage repayment holiday options during the peak of COVID-19 and extension of the JobKeeper program by the Federal Government. 
Based on the historical data and current market trends, we can expect to see the Melbourne property market continue to grow. A recent report by ANZ has forecasted that property prices are expected to increase by 16% in Melbourne in 20214 - its strongest growth year since the 1980s. This makes now a great time to enter the market by investing in property in Melbourne.