April 04, 2016
David Wilson
Growth rates in residential property continued to moderate with capital city values rising just 0.2% in March.

According to property research firm CoreLogic RP Data, the combined capital cities annual growth rate is now at a 31 month low of 6.4%.

Much of the fall in the annual growth rate can be attributed to Sydney, where year on year growth has fallen from 18.4% in July last year to 7.4%.

The Melbourne market has been more resilient, with annual growth in dwelling values slipping below 10% for the first time since May last year to 9.8%.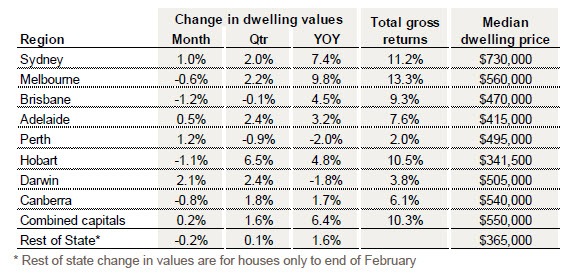 CoreLogic RP Data head of research Tim Lawless said, "The March quarter rise in capital city dwelling values is in stark contrast to the first quarter of 2015, when values increased by 3%."

"Compared with the final quarter of 2015, when capital city dwelling values were down 1.4%, the housing market has shown a modest rebound in growth which is well below the strong capital gains recorded over the first half of 2015."

Highlights over the three months to March 2016
• Best performing capital city: Hobart +6.5 per cent
• Weakest performing capital city: Perth -0.9 per cent
• Highest rental yields: Darwin & Hobart houses with gross rental yield of 5.1 per cent and Darwin Units at 5.4 per cent
• Lowest rental yields: Melbourne houses with gross rental yield of 2.9 per cent and Melbourne units at 4.1 per cent
• Most expensive city: Sydney with a median dwelling price of $730,000
• Most affordable city: Hobart with a median dwelling price of $341,500

The full CoreLogic RP Data results and commentary can be viewed here.