August 01, 2016
David Wilson
The Australian property market has returned to a more sustainable growth pattern with combined capital values rising 2.9 per cent for the past 3 months.

Data from CoreLogic reveals the annual growth rate for combined capital values, which hit a peak of 11.1 per cent in October 2015, is now at 6.1 per cent; the slowest annual rate since September 2013.

The top performing markets of Sydney and Melbourne have also seen their annual rates of growth slow to below 10 per cent with 9.1 per cent and 7.5 per cent respectively.

Interestingly July marks the 50th month of growth in combined capital values which commenced in June 2012. Over this period values have grown 38.3 per cent.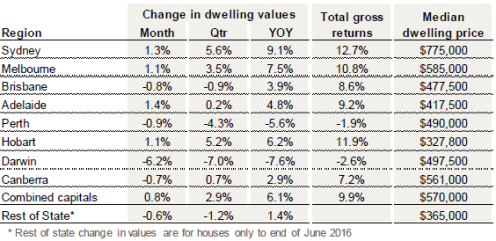 CoreLogic head of research Tim Lawless said, "The recent moderation in the rate of capital gains should be viewed as a positive sign that growth in dwelling values may be returning to more sustainable levels."

"However, the growth trend rate is still tracking considerably faster than income growth, resulting in a deterioration of housing affordability."

"Using Sydney as a case in point, the Australian National University estimates that Sydney household incomes have grown by approximately 4.5 per cent per annum since June 2012 while dwelling values are up 12.1 per cent per annum."
Highlights over the three months to July 2016
• Best performing capital city: Sydney +5.6%
• Weakest performing capital city: Darwin -7.0%
• Highest rental yields: Darwin houses with gross rental yield of 5.3% and Hobart Units at 5.3%
• Lowest rental yields: Melbourne houses with gross rental yield of 2.8% and Sydney units at 3.9%
• Most expensive city: Sydney with a median dwelling price of $775,000
• Most affordable city: Hobart with a median dwelling price of $327,800

The full CoreLogic results and commentary can be viewed here.