March 01, 2016
David Wilson
Across the country, house values continue to grow at a faster rate than units, however the gap has narrowed in recent months.

New figures from property research firm CoreLogic RP Data show that over the past year, national house values increased 7.8% compared to units which increased 6.2%.

Over the current growth phase, house values have increased 33.3% compared to 22.8% growth in unit values.

Melbourne dwelling values increased 0.3% for the month, leaving the city in first place with an annual growth rate of 11.1%.

The Sydney market arrested its recent monthly falls, rising 0.5% for the month with the annual growth rate now at 9.5%.

The largest monthly increases were recorded in Hobart 2.9%, Adelaide 1.9% and Brisbane 1.8%.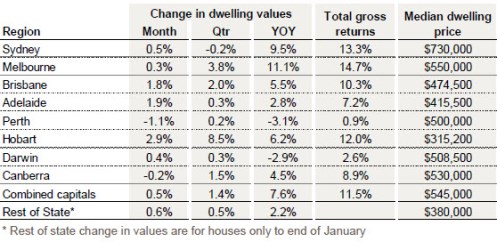 According to CoreLogic RP Data head of research Tim Lawless, "The trend in home value growth is showing signs of increasing in those markets that have previously underperformed. These include Brisbane, Adelaide, Hobart and Canberra. Affordability constraints aren't as apparent in these cities and rental yields haven't been compressed to the same extent as in Melbourne or Sydney."

Highlights over the three months to February 2016
• Best performing capital city: Hobart +8.5 per cent
• Weakest performing capital city: Sydney -0.2 per cent
• Highest rental yields: Darwin houses with gross rental yield of 5.2 per cent and Brisbane and Darwin Units at 5.3 per cent
• Lowest rental yields: Melbourne houses with gross rental yield of 2.9 per cent and Melbourne units at 4.0 per cent• Most expensive city: Sydney with a median dwelling price of $730,000
• Most affordable city: Hobart with a median dwelling price of $315,200

The full CoreLogic RP Data results and commentary can be viewed here.