August 01, 2017
David Wilson
The Melbourne property market continues to perform strongly rising 3.1% for the month of July for an annual growth rate of 15.9%.

Data from CoreLogic shows that the Melbourne result was a significant driver in the combined capital city rise of 1.5% for the month.

According to CoreLogic head of research Tim Lawless, the latest housing market results highlight the diversity of housing market conditions, with dwelling values down over the month in Brisbane (-0.6%), Perth (-1.3%) and Darwin (-1.2%).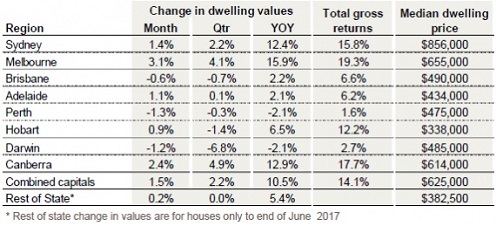 Nationally the results show the housing market is gradually responding to higher mortgage rates, tighter credit policies and affordability challenges, with the quarterly trend in capital gains moderating relative to early 2017.

Highlights over the three months to July 2017
Best performing capital city: Canberra +4.9%
Weakest performing capital city: Darwin -6.8%
Highest rental yields: Hobart & Darwin houses with gross rental yield of 5.1% and Hobart Units at 5.6%
Lowest rental yields: Melbourne houses with gross rental yield of 2.6% and Sydney units at 3.7%
Most expensive city: Sydney with a median dwelling price of $856,000
Most affordable city: Hobart with a median dwelling price of$338,000

The full CoreLogic results and commentary can be viewed here.