November 02, 2015
David Wilson
The Melbourne property market continued it's strong performance with dwelling values rising 3.1% for the past three months.

Data from CoreLogic RP Data shows that Melbourne's quarterly increase outperformed Sydney's 1.5%, taking the annual growth to 12.8% for Melbourne and 15.6% for Sydney.

Across the combined capitals, the quarterly growth rate was 1.4%, leaving the annual growth rate easing to 10.1%.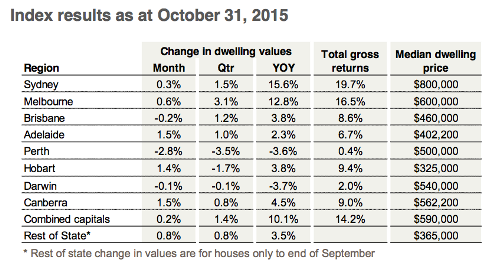 According to CoreLogic RP Data head of research, Tim Lawless, there are a range of factors contributing to the slow down in the big capital cities.

"It's not just the fact that mortgage rates have recently risen outside of any lift in the cash rate.

"We are also seeing approximately a 30% premium on investment-related mortgage rates, tighter lending standards and borrowers generally requiring a larger deposit.

"Additionally, new housing supply is moving through record levels which should ease the upwards trajectory of home values."

The easing property market will be one of a number of factors the Reserve Bank of Australia (RBA) will consider at it's monthly board meeting on Melbourne Cup Day.

While the RBA is tipped to leave the cash rate on hold, it would not be a complete surprise if it chose to cut.

The full CoreLogic RP Data results and commentary can be viewed here.