December 02, 2016
David Wilson
The Melbourne property market has softened this spring selling season with values rising 1.5% for the quarter, well below the annual growth rate of 11.3%.

Figures from property research company CoreLogic show that nationally, capital city property values rose 1.7% for the quarter for an annual growth rate of 9.3%. The housing growth cycle was now clicked over 4.5 years of growth with capital city dwelling values rising 42.2% over the cycle to date.

On an annual basis, every capital city except Perth is now showing a positive trend in dwelling value growth, with Sydney 13.1% and Melbourne 11.3% still leading the way.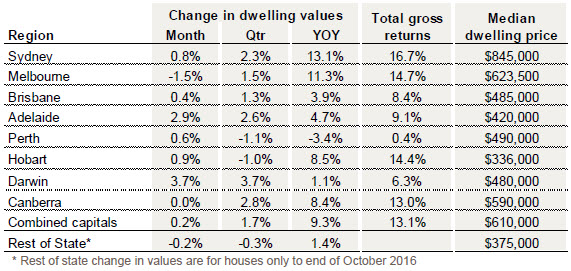 Commenting on the results, CoreLogic head of research Tim Lawless said, "Disaggregating this growth figure highlights the diversity in market conditions with Sydney and Melbourne at one end of the spectrum experiencing an increase in dwelling values over this period of 67.3% and 46.3% respectively, while at the other end of the spectrum, Perth and Darwin values have broadly declined since 2014."

"Perth values are 6.9% higher since the cycle commenced in June 2012, while Darwin values are 13.8% higher over this period."

Highlights over the three months to November 2016

• Best performing capital city: Darwin +3.7%
• Weakest performing capital city: Perth -1.1%
• Highest rental yields: Hobart houses with gross rental yield of 5.3% and Hobart Units at 5.7%
• Lowest rental yields: Melbourne and Sydney houses with gross rental yield of 2.8% and Darwin units at 3.6%
• Most expensive city: Sydney with a median dwelling price of $845,000
• Most affordable city: Hobart with a median dwelling price of $336,000

The full CoreLogic results and commentary can be viewed here.