February 01, 2016
David Wilson
New data has revealed that Melbourne has overtaken Sydney as the best performing capital city for the past 12 months.

According to the January 2016 CoreLogic RP Data Hedronic Home Value Index, Melbourne's annual growth in dwelling prices was 11.0%, surpassing Sydney growth of 10.5%.

Sydney's annualised growth is now at a 29 month low after peaking at 18.4% in July 2014, while the Melbourne market has been more resilient to slowing growth conditions.

Nationally capital city dwelling prices have risen 7.4% over the past 12 months with Canberra (6.0%), Brisbane (2.8%), Hobart (2.3%) and Adelaide (1.1%) all recording annual increases.

Dwelling values for the combined capital cities rose 0.9% for January 2016, with Hobart (4.7%), Canberra (2.8%) and Melbourne (2.5%) leading the way.

Index results as at 31 January 2016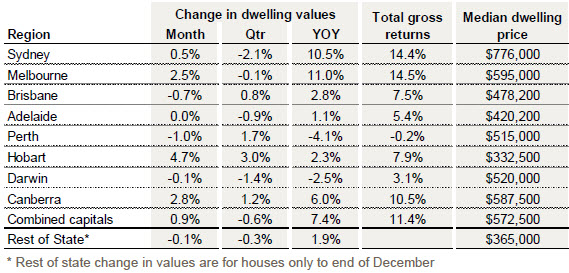 According to CoreLogic RP Data head of research Tim Lawless, the bounce in dwelling values in January may provide an early sign that housing values accross the combined capital cities are not likely to experience material decreases in 2016.

"We believe that the rate of capital gain accross the combined capitals in 2016 is likely to be less than the 7.8% experienced in 2015, driven by a slowdown in Sydney and Melbourne and continued softness in the Perth and Darwin markets," Mr Lawless said.

Highlights over the three months to January 2016
• Best performing capital city: Hobart +3.0 per cent
• Weakest performing capital city: Sydney -2.1 per cent
• Highest rental yields: Darwin houses with gross rental yield of 5.3 per cent and Hobart Units at 5.3 per cent
• Lowest rental yields: Melbourne houses with gross rental yield of 2.9 per cent and Melbourne units at 4.0 per cent
• Most expensive city: Sydney with a median dwelling priceof $776,000
• Most affordable city: Hobart with a median dwelling price of $332,500

The full CoreLogic RP Data results and commentary can be viewed here.