January 03, 2017
David Wilson
The property market in Australia's capital cities has achieved it's strongest growth since 2009, rising 10.9% for the calendar year.

Across Australia's capital cities, the annual change in dwelling values for 2016 ranged from -4.3% in Perth to 15.5% in Sydney, with Melbourne and Hobart also showing annual capital gains higher than 10%.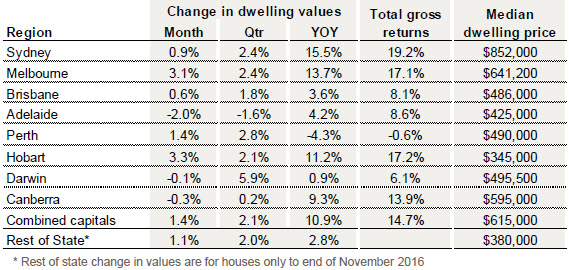 CoreLogic head of research Tim Lawless said, "Capital city growth rates have also shown a growing divergence between the broad housing product types. Over the past twelve months we have seen capital city house values rise by 11.6%, while unit values have increased by roughly half the pace at5.9%."

The difference in growth rates is the most distinct in Melbourne and Brisbane, where concerns around unit oversupply have eroded buyer confidence. Melbourne house values are up 15.1% over the year compared with a 1.7% rise in unit values, while Brisbane house values are 4.0% higher over the year, with unit values falling by -0.2%.

Highlights over the three months to December 2016
• Best performing capital city: Darwin +5.9%
• Weakest performing capital city: Adelaide -1.6%
• Highest rental yields: Hobart houses with gross rental yield of 5.1% and Hobart Units at 5.7%
• Lowest rental yields: Melbourne houses with gross rental yield of 2.7% and Darwin units at 3.6%
• Most expensive city: Sydney with a median dwelling price of $852,000
• Most affordable city: Hobart with a median dwelling price of $345,000

The full CoreLogic results and commentary can be viewed here.