September 02, 2016
David Wilson
Dwelling values across the combined capital cities rose 1.1.% during August, spurred by strong gains in Sydney and Melbourne.

Data from property research company CoreLogic showed that in Sydney and Melbourne, dwelling values continued to increase at more than 1% month-on-month, with the cumulative growth over the cycle (June 2012 to date) now reaching 64% in Sydney and 44% in Melbourne.

The results highlight the gulf between Sydney/Melbourne and the rest of the nation's capitals, with Brisbane coming in third at 18% down to as low as 4% for Darwin over the same growth cycle.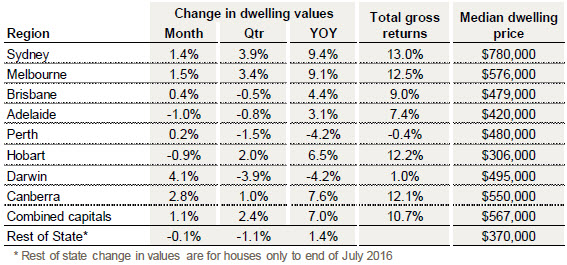 CoreLogic head of research Tim Lawless said, "Despite a strong month-on-month reading, the pace of annual capital gains has trended lower compared with the 2015 peak in growth conditions, when capital city dwelling values were rising at 11.1% per annum."

"The most recent twelve month period has seen dwelling values rise by a lower 7% per annum. However, the rate of annual growth in Sydney has virtually halved from a recent 18.4% peak to the current annual rate of 9.4%. Similarly, in Melbourne the annual growth trend peaked at 14.2% per annum last year and has since tracked back to 9.2% per annum over the most recent twelve month period."

Highlights over the three months to August 2016

• Best performing capital city: Sydney +3.9%
• Weakest performing capital city: Darwin -3.9%
• Highest rental yields: Hobart and Darwin houses with gross rental yield of 5.2% and Hobart Units at 5.4%
• Lowest rental yields: Melbourne and Sydney houses with gross rental yield of 2.8% and Sydney units at 3.9%
• Most expensive city: Sydney with a median dwelling price of $780,000
• Most affordable city: Hobart with a median dwelling price of $306,000

The full CoreLogic results and commentary can be viewed here.