June 01, 2016
David Wilson
Defying predictions of a slow down, the Sydney property market rebounded strongly, growing 3.1% for the month of May and 6.6% for the quarter.

Data released by CoreLogic shows the Sydney result contributed to dwelling values across Australia rising 1.6% for May, taking the annual growth rate to 10%.

Other capitals to record a rise of over 1% for the month were Melbourne (1.6%), Canberra (2.5%) and Hobart (2.2%). Perth was the only city to to record a fall during May, down 2.7%.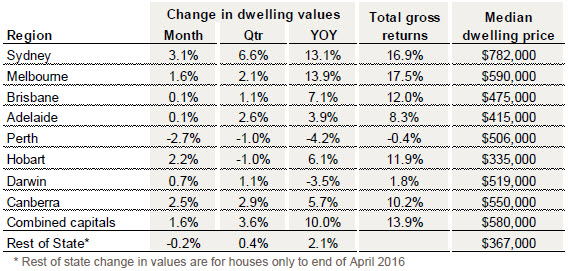 CoreLogic head of research Tim Lawless said, "Lower mortgage rates are likely to have a positive effect on consumer confidence and housing market conditions, with the standard mortgage rate now at its lowest level since 1968."

Highlights over the three months to May 2016
• Best performing capital city: Sydney +6.6%
• Weakest performing capital city: Perth/Hobart -1.0%
• Highest rental yields: Hobart houses with gross rental yield of 5.3% and Hobart Units at 5.5%
• Lowest rental yields: Melbourne houses with gross rental yield of 2.9% and Sydney units at 4.0%
• Most expensive city: Sydney with a median dwelling price of $782,000
• Most affordable city: Hobart with a median dwelling price of $335,000

The full CoreLogic RP Data results and commentary can be viewed here.