December 06, 2017
David Wilson
Capital city dwelling values held steady in November with a 0.1% fall in values, according to CoreLogic's November Hedonic Home Value Index results.

National dwelling values tracked 0.2% higher over the past three months and have increased 5.2% over the twelve months ending November. The national annual growth rate has now halved since reaching a recent peak in May 2017, when dwelling values rose 10.4%.

A significant contributor to the downwards movement was Sydney, where dwelling values were down 0.7% in November to be 1.3% lower relative to the market peak. Sydney's 1.3% fall over the past three months is the greatest decline over a three month period since March 2016.

Melbourne dwelling values recorded relatively steady growth over the past few months with values increasing by 1.9% over the past three months. On an annual basis the rate of value growth has slowed to 10.1%, from a recent peak of 13.1% in July of this year.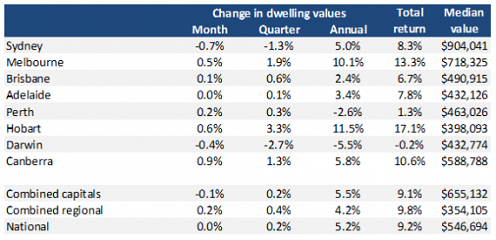 Highlights over the three months to November 2017
Best performing capital city: Hobart +3.3%
Weakest performing capital city: Darwin -2.7%
Highest rental yield: Darwin 5.8%
Lowest rental yields: Melbourne 2.9%
According to CoreLogic head of research Tim Lawless, "The diversity in capital city housing market conditions is highlighted by the rolling quarterly change in dwelling values, which range from a 3.3% rise in Hobart, to a 2.7% decline in Darwin. However, considering that together these two cities account for less than 1.5% of total housing stock in Australia, they have had little effect on the overall headline figures."

The full CoreLogic results and commentary can be viewed here.