September 27, 2017
Heather McBride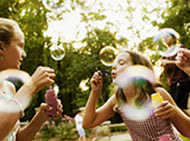 Spring doesn't just bring sunshine, longer days and fresh produce, but the excitement of hosting gatherings in the backyard. 
For South Australian's, nothing beats spending time outdoors, having afternoon tea amongst the flowers or enjoying a lazy barbecue with friends and family. We are lucky to have the best climate here in Adelaide, and a great backyard is an essential need for many home owners.
Your backyard may not be looking the best after a long winter, but with these five simple tips, you can turn your backyard into the ultimate entertaining area.
1. Plan ahead of time
Every project needs to start with a plan. Your plan for the redesign of your backyard needs to include cost, items, placement and process.
Firstly, you should work out how much space you have to work with by disposing anything that is unwanted, dead, or out of season.
Having a clean and open space will help you identify the direction you want to go with the use of the space.
When it comes to designing your backyard, don't be afraid to look at other people's backyards and get inspiration from magazines and websites.
2. Set up a budget
Now that you have the space, you can start to bring your vision to life.
Create a budget for how much you want to spend on the makeover as this will help you avoid spending beyond your limit.
Make a list of everything you want for your backyard, such as furniture and plants, and note down the price of each item.
Do your research on suppliers in shops and on the internet, to find the cheapest deals possible.
3. Landscape your backyard
Have a look at what items you currently have in your garden and consider recycling items that are still in good condition.
When it comes to landscaping your garden, use year-long plants that can last any weather condition and still retain their beauty.
With any existing plants, you can give them an extra nutritional boost by adding a layer of new soil which you can find at an affordable price at nurseries and warehouses.
4. Decorate your backyard
Once you have exhausted your recycling options, you can purchase the other things on your list to appropriately fill your space for every occasion and activity for the summer. 
When decorating, use the backyard space to its full potential and purpose.
Remember to spread items out, accessorise each component and add colour, light and comfort. Always keep in mind how you might want to use it for social occasions. 
5. Maintaining the backyard
Now that your backyard is ready for the summer and the opportunities it brings, the next step is maintaining it. This is important as you want to make sure everything is usable and kept in good condition for the whole season.
Think about weather conditions, the level of care needed for plants, how often you will be home, and the overall environment.
With these tips, your backyard will be the best space for hosting spring and upcoming festivities and making special memories.
If you would like to know your options for financing a renovation for your home, speak to me today on 0417 864 905. As your local home finance expert in Norwood and Campbelltown, I can help you find the best home renovation loan to suit your needs.  
Heather McBride