First home buyers
First home buyers: What you need to know
Taking the first step towards owning your own home is both exciting and a little overwhelming. But the rewards are outstanding. Your local Mortgage Choice broker can take the stress out of the process of your first home loan with expert advice and support.
Find out what grants and concessions are available in each state.
Answers to questions most commonly asked by first home buyers.
Find a Mortgage Choice broker in your local area and start your journey with an expert.
Find out here how you may be able to save money for a deposit through your super.
A mortgage broker can take the time and hassle out of shopping around for the right home loan, and guide you through the home buying process with expert advice.
Find out more about the steps involved in securing a home loan and buying a home.
First
home buyer's

guide

Purchasing your first property can be an overwhelming process and there may be steps you are unsure or unaware aware of. This guide will walk you through all of the steps involved in the buying process.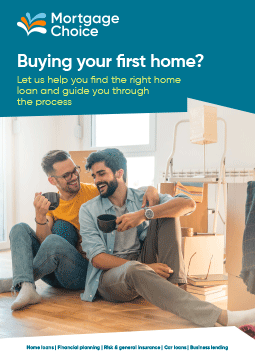 Are you eligible for a First Home Owner Grant?
Help me
work out

...
How a mortgage broker can
help first home buyers
Explain the costs & process
Your broker can explain all the costs and steps involved in buying a home and give you a realistic picture of what you can borrow.
Help you get pre-approval
If you haven't yet found the right home, your broker could help to organise pre-approval so you can shop for your new home with confidence, knowing exactly what you can afford.
Apply for incentives
In Australia, there are a number of government incentives available to first home buyers. We'll let you know whether you're eligible for assistance schemes such as the First Home Owners Grant (FHOG) and help with the paperwork.
Support you all the way to your first home
When you're ready to move ahead with your first home loan, your broker will prepare all the paperwork and support you at every step to settlement.
Hear from our customers
---
As first home owners, the level of support, patience and availability to explain the process was excellent.
---
They did all the legwork for us when the time came to submit our loan, which meant that once we gave him our paperwork we didn't have to worry about a thing!
---
I'd definitely recommend Mortgage Choice. If I had known it would be this easy to arrange a home loan and buy a place of my own I would have done it years ago!
Things can
change quickly

in the market.
Subscribe and stay informed with news, rates and industry insights.