Testimonials
Reviews from our customers at Mortgage Choice in Mentone
Read what our clients have to say about the Mortgage Choice team in Mentone. If you're on the home loan or financial planning journey and need some help, call us on ‭9585 2000‬.
---
I cannot fault the level of communication, responsiveness, patience, service and knowledge from Ian, Kate and the team. They went above and beyond and made the entire process seamless. They were very professional throughout and we definitely appreciated the status updates. Communication has been a pain point with previous brokers but Ian, Kate and the team were exceptional in this regard and it always a pleasure speaking with them! I will definitely be using their services again and would highly recommend them to anyone that needs their services!!!



---
Ian and Kate were very patient and understanding throughout my long journey purchasing property. I felt that the journey was explained clearly and everything they said they'd do were done. Thank you Kate & Ian for helping me with my endeavour. 💐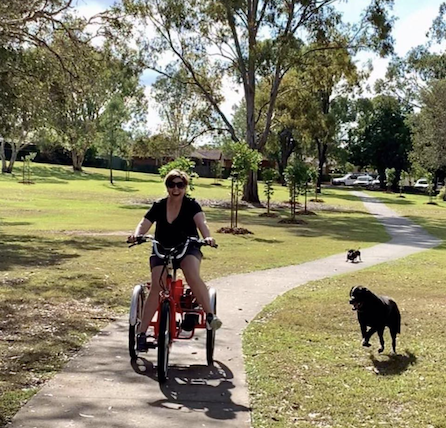 ---
I cannot recommend Ian and Kate enough. They have been absolutely amazing! virtual hugs to you both!



---
Ian is a gifted broker, articulate, tactful and compassionate. He carefully examined every aspect of my financial situation and never failed to place the highest priority on working through the application process despite time critical demands. Ian presented lending scenarios, one after the other, working so hard to help define the best strategy with good rates that suited my needs and objectives. He was enormously helpful at all stages of this work. He and his team provided outstanding service and responsiveness - all I had to do was give them the facts. What a privilege to share such pivotal and precious moment buying a dream first home in the presence of a gentle and sensitive guide. Wishing Ian, Kate, Megan and Mortgage Choice Mentone good fortune.



---
Ian and his team have been amazing during our loan application process. They are very professional and responsive. Kate from Ian's team has gone above and beyond, monitoring emails on weekends and weeknights waiting for responses back from overseas processing teams. I could not recommend them highly enough and I look forward to a long term relationship with the team to ensure we get the best loan terms we can!



---
Thank you so much to Ian and the Mortgage Choice team in Mentone - you made my property buying experience so easy and relaxing! I was kept updated constantly throughout the process and everything was handled for me including the tricky parts of the settlement. I will definitely engage this team again.



---
We first sat with Ian Celentano seeking his guidance on how we can enter into buying our first home. With a meager amount of savings plus a determination to reach our goals, Ian carefully explained to us where our financials at and how we can achieve it. It took us maybe more than an hour or two with the discussion. He was really patient with my questions. After 3-4 years, we knocked again in his office door to seek again his guidance. Through his help, we were able to obtain a lender's pre-approval. However, on our journey of property hunting, we came across an off-the plan property which price is above our pre-approval amount. So, we seek again Ian's help to obtain a new lender's pre-approval for this property. It was a more complicated process to get a new one. So, I had tug-of-war between him and the real estate agent in trying to bring the price down into the first lender's pre-approval amount. We talked almost every day discussing options and strategy. However, upon researches done by Ian and advice, I ended up not taking this property due to lending technicalities despite being within the pre-approved loan. He carefully explained to me over and over again the potential issues we might face on this property. It was really a complicated process, but Ian was patient and helpful as he is trying to protect our interest too. I felt being discouraged then prayed really hard for God's wisdom and leading. Then, over the week I've heard horror news for similar off the plan property purchases. Thus, I realised it was a good decision and remembered Ian's explanations. After a week, we found another property which is better and bigger than the first one and cheaper! Phoned Ian straight away and checked with him. We got a green signal that this is ok then I made an offer to the property, vendor accepted then voila! Very delighted that I rang Ian, we worked out the numbers and searched for lowest interest rate and better loan package. After 2 business days, he rang me to say that our loan was unconditionally approved! I am so thankful to Ian who led us into this journey. His professionalism has led us to a better decision and better choice. Indeed, it was an absolute pleasure to work with him. Now, we are just waiting for the settlement date of our first home. Highly recommended as they don't look after for their own interest but the interest of their clients too. On behalf of Larry and myself, thank you Ian and team, for helping us to make our dreams come true!



---
They took into account what we wanted and gave us good advice on the final product. They were very patient, professional, responsive and helpful through a complicated process. We cannot recommend the team enough.



---
We have been using Ian from Mortgage Choice Mentone for a few years now. He got us our home loan and has refinanced for us at the lowest rate possible. Such good service and we would not use anyone else. Thank you Ian and all at Mortgage Choice Mentone



---
Ian was absolutely fantastic. He went above and beyond what we expected. He was patient and explained every step along the way. Thanks to Ian and his team we were able to afford our dream home. Genuinely, from the bottom of our hearts, thank you!



---
It was a great journey with Ian and team to buy the first home. I was reluctant to start the process as I had very limited knowledge and support and was discouraged by many in the past. The first appointment itself Ian's professionalism and empathy gave me courage and confidence. There onwards the support, efficiency and guidance was commendable. Ian and team go extra miles without any hesitation to make client's dream a reality. Now I am a happy owner of a brand new home and I applaud them for their competence and commitment. Wish them well and success.



---
Ian and the team were professional, helpful, persistent yet patient and secured us a loan for our home. Big thanks!



---
Helpful and knowledgeable.The Office was also in a convenient location.



---
Ian and the team went above and beyond with my home loan approval. They made the whole process easy and stress free! Amazing service would definitely recommend.



---
Thanks to the team at Mortgage Choice. It was a long 2 years between selling and buying and Ian was very patient and helpful, providing the best information and loans offers at the time. They had fast turnaround when we finally purchased. And we got a much lower rate than any published advertised rates. Highly recommend.



---
AMAZING TEAM! IAN & MEGAN ARE GREAT!



---
My partner and I dealt with Ian at Mortgage Choice Mentone for arranging our mortgage. We are first time buyers and Ian was incredibly helpful and supportive through what turned out to be a non-typical process. Ian's service was excellent at every stage of the process, we are completely happy with everything he did for us. We can wholeheartedly recommend him to anyone looking to get their next mortgage.



---
Man what a journey I put this poor bugger on! Thank you Ian for getting us across the line and giving us the help and guidance with our financial needs. Looking forward to needing your help again in the near future. I'll uncross everything now .



---
Ian was very helpful, patient and dealt with all the rubbish the banks did so I didn't have to.



---
Ian and Kate were incredibly helpful, friendly and efficient. Got us a great deal with the bank and made the process really easy and hassle free. Definitely recommend them!



---
Ian Celantano who runs Mortgage Choice Mentone is the best mortgage broker we have found. He went above and beyond to help us and cared a lot about us potentially making a costly mistake as evidenced by advice late at night before auction day, then a phone call just before auction and follow up immediately after the auction ended. This is a mortgage broker who cares, knows his stuff and is a great people person. Communication with both Ian and his assistant Kate was excellent and they guided us through unfamiliar territory brilliantly. Highly recommended.



---
I have no hesitation in highly recommending Ian from Mortgage Choice Mentone. He worked tirelessly and professionally to secure the right loan product for us at a great rate and he was just fantastic to deal with, First Class in every respect. An enormous Thank You for your help Ian.



---
I recently purchased a property subject to finance. Upon following up with three of the big 4 banks who had indicated I could borrow the relevant funds I was informed this was no longer the case due to heightened lending restrictions. I then contacted Ian from Mortgage Choice in Mentone and within the hour I was in his office going over my situation. Ian spent the afternoon with me reviewing my financial position and with his knowledge and tools available managed to submit an application with a major lender within a couple of days. Ian spent the time to understand my goals, finances and requirements and looked at multiple options. He constantly cleared his schedule to see me as he knew the urgency and time restraint I had. I then received an unconditional approval within 5 days!

In addition to Ian's professionalism, his assistant Kate was also exceptional and constantly kept me up to date with any progress. I don't normally give reviews like this but in this case Ian and Kate deserve a great review. I highly recommend their services for anyone seeking a loan or a better deal with their current lender. 10/10 service



---
Yes, I was very pleased - Methodical and prompt service. Highly pleased with process and outcome



---
Great Service and was Kept in the loop at all times throughout the process. Thanks Guys!



---
I found Ian, Nic, and Meagan absolutely fabulous in respect to communication and updates throughout what is usually a stressful process. The team was always one step ahead, predicting the next steps for me to allow for a smooth transition. I can't thank them enough and needless to say I also highly recommend them.



---
We were incredibly happy with the service we received from Ian & his team. He acted so quickly on our behalf and made himself available to us at all hours. I would highly recommend him to anyone looking to engage a mortgage broker.



---
Communication was top notch & the only delay was from the bank SIAE. Everything else was excellent.



---
As first land/home buyers we required a lot of guidance and assistance with the process, Ian & Megan were extremely helpful & professional through all steps in setting up the right package and lender for us. Ian & Megan gave us prompt feedback with all our questions and always available by phone, email and in person, highly recommended! Thank you.



---
Ian was very diligent and at the same time patient with us, which is everything we needed.



---
Easy and felt nothing was too much trouble. Thanks!



---
Ian was amazing helping our daughter with her first home loan. Even though we are in Perth everything was made simple by Ian and his team. Have already recommended Ian to friends as he made something quite daunting to a young buyer, so easy! Thanks Ian from myself and Hannah (H English).



---
We were referred to Ian via Bayside Community Hub and initially sceptical to use a Mortgage Broker – HOWEVER – Ian was fantastic, great knowledge, honest and helped us with all our needs. Will recommend Ian to all our family and friends.



---
Even though I am in a different state, we were able to arrange all details via Messaging, phone calls and Face Time. Ian made the process easy.



---
Excellent service and efficient. Ian was amazing.



---
Very happy. Ian and his team worked very hard for us to get us the loan, and we found the whole experience very easy and professional.



---
Ian and the team at Mortge Choice Mentone came highly recommended via a number of people following my request for mortgage broker recommendations on the Bayside Community Hub. Like most people these days, we are time poor and had let our mortgage with one of the big banks tick along for years without reviewing it. Ian came to our house, took the time to understand our requirements and presented us with all our options. He ended up saving us more than 0.75% off or mortgage which will save us heaps over the life of the loan and we couldn't be happier with our new provider. Ian filled out all the forms for us and made sure everything was completed in a timely fashion. Definitely worth the effort and we only wish we'd done it sooner!



---
Thank you for taking the time outside of business hours and for coming to my house. It made a big difference.



---
AMAZING TEAM! IAN & MEGAN ARE GREAT!



---
I was very happy. Ian went above and beyond to help me acquire a loan. I don't think it would ever have happened without his tireless work.



---
Ian was fantastic and helpful. We have already recommended him to family and friends.



---
Ian was great to deal with and helped at every stage of the process. I can't thank him enough.



---
My partner and I dealt with Ian at Mortgage Choice Mentone for arranging our mortgage.
We are first time buyers and Ian was incredibly helpful and supportive through what turned out to be a non-typical process.
Ian's service was excellent at every stage of the process, we are completely happy with everything he did for us.
We can wholeheartedly recommend him to anyone looking to get their next mortgage.