October 31, 2016
Meredith Sirett
Matt Walker has joined the movement for men's health... Follow his journey here. For the next 30 days Matt will grow his moustache. Please donate to this worthy cause. https://au.movember.com/donate
Understanding Men: The Global Health & Wellbeing Survey
On average, men die five years younger than women and live with worse health. Around the world, we lose a man to suicide every minute of every day. This is a health crisis that needs urgent action and thanks to the funds you raised, we're able to take on the challenge of better understanding the men we serve and how to take action to protect men's health.

We commissioned the Global Health & Wellbeing Survey, a pilot study to look at the health beliefs, perceptions and health behaviours of over 10,000 men and women in the five countries - Australia, Canada, New Zealand, the United Kingdom (UK), and United States (US).

We partnered with University of Sydney to conduct this new research, which looked at the relationship between physical and mental health and the gaps in understanding. The survey reveals:
the risks to men's mental health are not well understood by men or women
the impact of the vulnerable times in a man's life
men's helpful and harmful responses to tough times
how different life events that are perceived by many as stressful are associated with suicidal thoughts and behaviours for men of different ages
the importance of social connection for good health and wellbeing.
Key findings included:
46% of men surveyed, who experienced at least one stressful life event over the past 12 months, reported suicidal thoughts or behaviours
66% of men who had a major life event found that experience stressful
Men who were social isolated reported higher psychological distress, higher self-stigma, and lower personal. They also reported lower confidence relating to seeking help for physical health, mental health, and alcohol and/or other substance use problems.
More than half of the men surveyed (55%) reported that they engaged in less physical activity than recommended for a healthy lifestyle.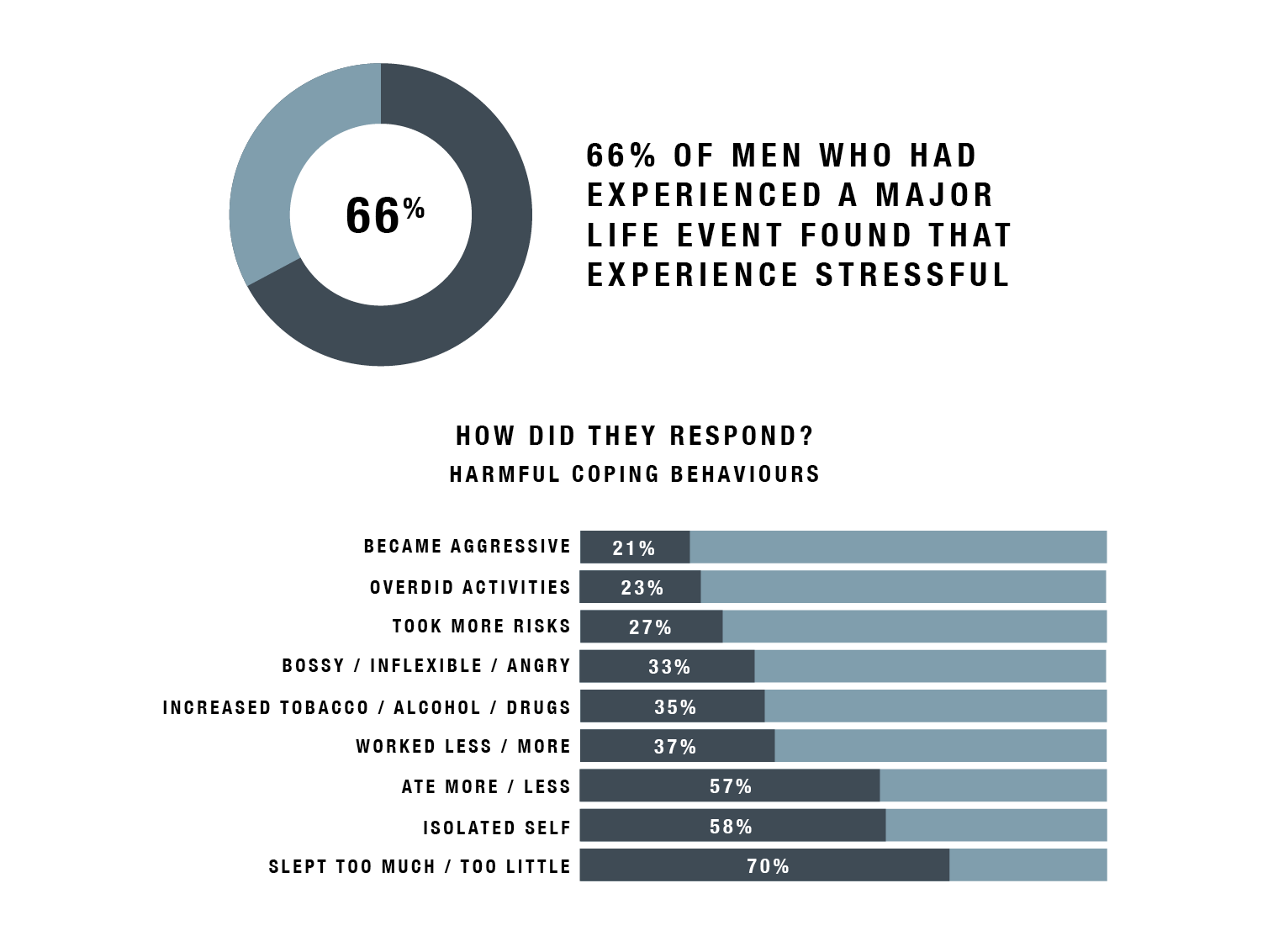 The survey findings also paint a disturbing picture of how men's responses during stressful times— particularly relationship break-ups or losing a job—may ultimately contribute to health issues that cut men's lives short. Compared to women, men are more likely to respond to tough times by turning to alcohol and other forms of substance abuse, becoming aggressive, taking more risks, and isolating themselves socially.

We're encouraging you to take the first step to take action and reach out if you or someone you know is concerned about their physical or mental health. Talk to a friend, partner, family member, GP, or phone counselling hotline.

Help us raise awareness of men's health issues by getting involved and supporting Movember. Be part of the movement to help men live happier, healthier and longer lives. Sign up for Movember.