Home Loan Application Process with Mortgage Choice Scarborough & Osborne Park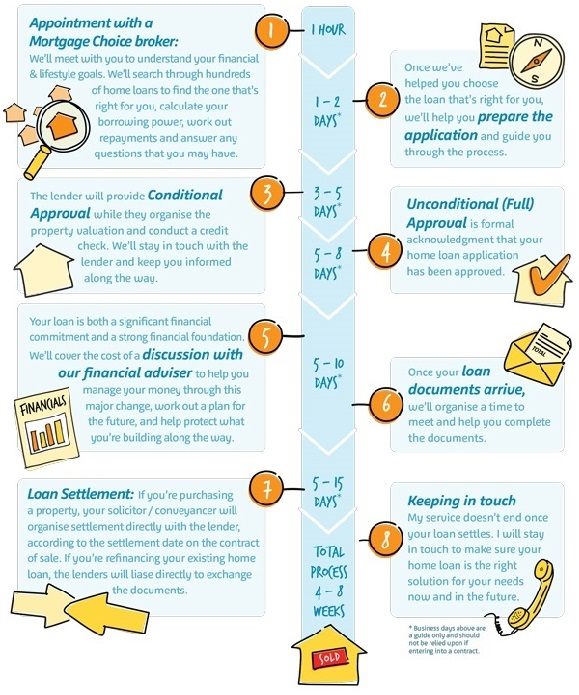 1. Meet with us to answer your questions & discuss your goals
We consider this as probably the most important step in the application process.
Gaining an understanding of what you want to achieve in the Scarborough and Osborne Park area, both now and in the future, as well as answering your questions, is our main goal at this stage.
Understanding your lifestyle goals allows us to ensure that any recommendations we make will not only allow help you reach your current goals, but also set you up to achieve your future goals as well.
We also aim to educate all of our Scarborough and Osborne Park clients on how we are paid as your broker and how we determine your borrowing capacity.
This way you are able to walk away from our first meeting feeling confident that you understand what is required for the home loan application and how we will proceed from this point onwards,
Generally this initial meeting process takes about an hour.
2. Applying for your home loan
Once we've determined your goals we will assess all of the 26 different banks and lenders on our panel to see which ones are able to meet your needs.
Then, once you have chosen the loan that's right for you from our recommendations, we'll prepare the application and guide you through the whole process.
We can work through the application process is 24-48 hours.
3. Conditional approval
The lender you have chosen will provide you with conditional approval while they organise the property valuations and conduct a credit check.
We stay in touch with you, the lender, real estate agent and settlement agent to make sure everyone is informed at each step of the application.
This approval by the lender usually takes 2-3 business days to take place.
4. Unconditional (full) approval
Unconditional approval is the formal acknowledgement that your home loan has been approved by the lender.
We will let you, the real estate agent and settlement agent know as soon as your home loan application has been unconditionally approved, ensuring everyone involved is on the same page and can continue to work towards the settlement date.
It normally takes 4-7 business days for the banks to review and finalise your application.
5. Managing your finances
Because your loan is both a significant financial commitment and a strong financial foundation, we believe all of our Scarborough and Osborne Park clients should have access to the right financial advice. We'll cover the cost of a discussion with our financial adviser to help you manage your money through this major change, work out a plan for the future and help protect what you're building along the way.
This consulting process is built into the home loan application process and the meeting with a financial adviser can happen at a time and place convenient to you and your schedule.
6. Your paperwork arrives
Once the bank has finalised your loan, they'll send through all of your loan documents. We organise a time to meet and help you complete all the documentation.
If you're in the Scarborough or Osborne Park area this will generally take 5-10 days for you to receive the documents and once you receive them we can organise a convenient time to sit with your and complete them.
7. Settling your loan
If you're purchasing a property in Scarborough or Osborne Park, your settlement agent will organise settlement directly with the lender, according to the settlement date on the contract of sale.
We find that most people are in the dark when it comes to what a settlement agent actually does, so for more info you can find out in our blog here "everything you're always wanted to know about settlement agents but were afraid to ask."
If you're refinancing your existing home loan, the lenders will liaise directly to exchange all of the documents.
Home loan settlement can take anywhere between 4-14 business days and is generally negotiated as part of the contract of sale. Different length periods can be organised depending on yours and the seller's needs.
8. Keeping in touch
Our service doesn't end once your home loan settles. We will stay in touch to make sure your home loan is the right solution for you needs now and in the future.
The total home loan process can take anywhere between 19 and 46 business days.
Working with Mortgage Choice Scarborough & Osborne Park simplifies the process, as we guide you through the application and approval stages and remove the stress from buying your home.
If you have specific time constraints or needs when buying your property, your mortgage broker and settlement agent will help negotiate longer or shorter times for settlement and work with your lender to meet your needs.
To book begin the process now, or just to have a chat, feel free to give Jason Coviello a call on 0438 211 745 or send an email through to jason.coviello@mortgagechoice.com.au.
If you'd rather be social about it, feel free to head across to myFacebook Page and see if there's already an answer to your question or pm me.
Want access to a simple and easy way to keep up to date with changes in the market that you need to know about?
Then sign up for our Monthly Market Mail.
It's free, and we won't be sending out anything other than the Monthly Market Mail unless you ask for it!
You might also be interested in;