Contact Jason on 0438 211 745 for more details or read on to learn more.
Home buyers in Perth's west can currently take advantage of a trifecta of benefits to enjoy outstanding long term value.
First up, market values around Scarborough, Doubleview and Karrinyup have cooled slightly. As a guide, the median value of a house in Scarborough is currently $697,500 down from $710,000 this time last year. It means today's home buyers in Perth's western suburbs can get more bang for their buck.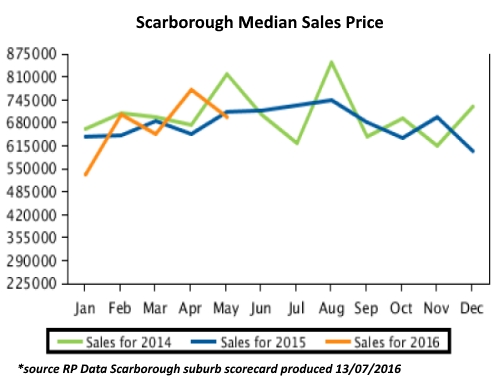 But it doesn't end there.
Today's home loan interest rates are as low as I can ever recall, and to top things off, lenders are keen for your business, putting buyers in the driver's seat to secure a very competitive home loan.
It pays to research the market
Nonetheless, compelling market conditions are no reason to be complacent.
Some of the best home loan deals are offered by lenders you may not consider so it's worth looking beyond your regular bank. But the rate isn't the only factor to focus on. Loan features can make a tremendous difference in your ability to pay off your mortgage sooner, and that's where the big savings lie.
It all highlights the value of thoroughly researching the home loan market. But who has the time to do that?
The answer is we do.
Know how much you can borrow
Importantly, we can tell you exactly what your borrowing capacity is to help narrow down your choice of properties.
Next, my team of home loan experts in Perth's western suburbs will sort through our extensive panel of lenders to secure the loan with the rate that is right for your budget – and the features that match your lifestyle.
Of course, you have the final say on which loan you decide to run with, and from here we'll assist with your application right through to settlement. It leaves you free to focus on finding the property that's right for you while my team of experts works behind the scenes managing your loan application.
Home loan pre-approval – a valuable negotiating tool
For additional certainty, I often advise my home loan customers in Scarborough, Doubleview and Karrinyup to consider home loan pre-approval. It can also be a solid negotiating tool.
Having home loan pre-approval in place tells selling agents you are a serious buyer who can act quickly – something that appeals to plenty of vendors.
Buying off the plan – seek expert advice first
If you're thinking about buying off the plan in Perth's western suburbs, it makes good financial sense to speak with my team at Mortgage Choice in Osborne Park and Scarborough to discuss your home loan options before you commit to a property.
Take a look at how I helped one young couple – Drew and Courtney with their off the plan purchase.
Unbiased home loan advice
With market conditions very much favouring buyers, now is certainly the time to step into the west Perth market. Not only do my team of home loan experts make it easier to secure the right loan for your circumstances, we'll save you time by meeting where and when it suits you.
And our service comes at no cost to you.
We are paid by lenders but we're paid the same regardless of which loan you select from our panel of lenders. It's our way of showing our expert advice is based solely on your needs.
To take advantage of today's trifecta of benefits in Perth's western suburbs, contact me - Jason Coviello at Mortgage Choice in Osborne Park and Scarborough on 0438 211 745 or 08 6114 7962. Or email me at Jason.coviello@mortgagechoice.com.au for more information.
You might also be interested in;