Local Mortgage Broker & Home Loan specialist in Pacific Pines, Oxenford, Maudsland, Coomera & surrounds
Looking for a home loan? Talk to Jay Stewart, your local Mortgage Choice broker from Pacific Pines / Maudsland, QLD. Let us research and compare over 20 lenders for you. To find the best home loan solution, call me on 5502 8906
Oxenford
5.0 (29+ total reviews)
Aggregated from:







Call Us

Mortgage Choice Oxenford

Office - 07 5502 8906

Fax - 07 5502 7306
Open Hours

Mortgage Choice Oxenford

Monday - Friday: 9:00am - 5:00pm


After hours by appointment

Free Appointment
Address
PO Box 1207
OXENFORD,

QLD

4210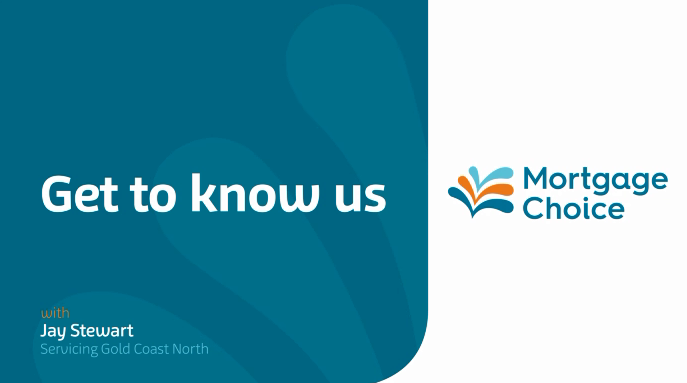 If you're looking for some personal service and need someone to take the stress and confusion out of the home loan process, then you have come to the right place. You have found a mortgage broker servicing the Northern Gold Coast including Pacific Pines, Oxenford, Maudsland, Coomera, Helensvale and surrounding suburbs that wants to find the most suitable home loan for your lifestyle.
Whether you are a first home buyer, an investment purchaser, an upgrader, a refinancer or an experienced home buyer as your mortgage broker we will help you find the home loan that suits your needs. Do you want a basic no frills home loan or something with some more bells & whistles? Do you want a variable, fixed rate or line of credit loan? Are you after a reverse mortgage (senior equity release product)? The choice is yours!
We all have different things we want from a home loan and as a Mortgage Choice mortgage broker we have access to a large panel of over 20 lenders including the major banks, which enables us to look at hundreds of different types of home loans. Mortgage Choice has helped over 300,000 Australians find a home loan since 1992.
Why choose us?
We do all the running around
We can meet at a time and place to suit you
We are paid by the lenders
We are Mortgage & Finance Association of Australia (MFAA) accredited brokers and therefore follow a high standard of professionalism
We will keep you informed throughout the whole process from our first meeting until settlement occurs
And best of all there is no charge for our home loan service
Once you've agreed on your home loan, as your mortgage broker we will prepare the paperwork, lodge the loan application and take care of all the running around. As this franchise is independently-owned and operated, you can be sure that you get a recommendation based on what's right for you.
We can also help with car loans, car leasing finance, equipment leasing, personal loans, reverse mortgages and commercial lending products.
So why not pick up the phone and make the call to 5502 8906 or 0403 281 031, we are only too happy to help.
Your local Mortgage Broker servicing Arundel, Ashmore, Coomera, Coombabah, Guanaba, Helensvale, Hope Island, Labrador, Nerang, Maudsland, Oxenford, Pacific Pines, Runaway Bay, Sanctuary Cove, Southport, Surfers Paradise and Upper Coomera. This includes all suburbs on the Northern Gold Coast in post codes 4209, 4210, 4211, 4212, 4214, 4215, 4216, 4217.
The right home loan for your needs
Our mission is to find the right home loan for your individual needs and to always have your best interests at heart. Plain and simple. Which is why we have such a wide range of lenders to choose from. We can search through hundreds of products to find something tailored to your situation. ~
Client reviews
Jay was absolutely fantastic we had a few hiccups with the bank but just was on it right away and have our best interest at heart the whole way. Fantastic customer service would 100 recommend him to my friends and family.
Jay was amazing thought the whole proscess. He helped us with everything we needed and more. I highly recommend using Jay if you are looking to buy a place.
We have now used Jay's services twice to purchase property. Totally professional, gets you the best options. Will definitely use him again if we buy again. Great guy. Thanks Jay.
My wife I have used Jay Stewart and his team for several purchases and it has always been a very professional experience. We plan to expand our portfolio of properties and will always go to Jay the team at Mortgage Choice Pac Pines.
Jay stuck with us as ourjourney was a long one. His patience and hard work was beyond what he had to do. THANKS so much would recommend Mortgage Choice and Jay.
Jay has helped us to find and finalise our last three mortgages. He has always offered a prompt and professional service and we would recommend his services to anyone seeking a mortgage broker.
Jay was great He made the whole process so easy We happily recommend Jay to anyone looking to refinance, finance a new home or any other investment they may be looking into.
Buying your first home is one of the most stressful things someone can do. Not everything went to plan but Jay was persistent and managed to get us across the line. Thanks for all your help with getting our first major investment
Jay was amazing throughout the whole process, considering we ended up having to apply for the same loan twice due to the first approval lapsing from delays, he made my process nice and easy, and got me the best deal possible on the market. Very happy with your work Jay
Thanks heaps again for your time
Jay, I was very pleased with your service & what a delight to deal with a true professional and we would like to take this opportunity to sincerely thank you for your ongoing help and support. You were able to effectively communicate with us in such a way that we could fully understand the process.
We would have no hesitation in recommending your company to others.
First home buyer's guide
Purchasing your first property can be an overwhelming process and there may be steps you are unsure or unaware aware of. This guide will walk you through all of the steps involved in the buying process.