August 01, 2015
Jim Demetriou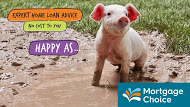 Whether it is a home or commercial loan you are looking for do you normally head straight to your bank to apply? If you do, then think twice. You may be missing out on some significant benefits. There are countless reasons why it pays to use a Mortgage Choice broker.
1. Choice
The greatest advantage is choice. At Mortgage Choice we have access to a panel of up to 28 lenders, including the big 4 banks. That means when you sit with us you are sitting in front of all those lenders and the wide range of products and services on offer. Visit your bank and you have access to only their products.
2. Understanding your needs
We take the time, at no cost to you, to understand your needs. We will find out about your circumstances and goals. We can even come to you when it's convenient for you, so no working around bank opening hours.
3. Calculate your borrowing power
We can calculate how much you can borrow and how much you can comfortably afford to repay. If you are an exisiting borrower then we can find the best refinance option for you.
4. Do all the legwork
If you decide to go ahead with an application, we will prepare all of the paperwork and support you through the entire process. We also work to get your pre-approval, so you can purchase with confidence.
5. At no cost to you
Importantly, as a Mortgage Choice broker, unlike some brokers, we do not get paid differently by recommending one lender over another. So you get our expertise at no charge, with the peace of mind that we have your interests at heart. At Mortgage Choice, the only choice that matters to us is the one that's right for you.
Talk to Mortgage Choice Sutherland - Sylvania today. As a family owned and managed Mortgage Choice franchise you have our committment to deliver a superior personal and tailored solution to achieve your finance goals.
Contact Jim on 02 9525 0112 or 0437 330 858 or www.mortgagechoice.com.au/jim.demetriou