September 15, 2017
Wondering how long it might take you to go through the home loan application process from start to finish? Here's an overview of what to expect.
To start, the average time that we find it takes for an application to go from the beginning to end is around four weeks. This time frame varies for a range of different reasons.
Pre-approval stage
At the very beginning of the process, obtaining a home loan pre-approval can usually be done quite quickly. This of course doesn't include the time that it could take you to find your perfect house - and this can take you some time. The application process can take a little longer if you take your time finding your dream home, however if you find the property you want to purchase straight away then settlement can be as little as 30 days away from reality.
How long to refinance my current home loan?
Our team of experienced Kingscliff and Springwood mortgage brokers have found over the years that refinance applications take around three o four weeks for settlement, but can often times be faster than that.
How long your application takes with the lender will mainly depend of the strength of your application. Also the current timeframes and turnarounds of your chosen lender can have quite a big impact on the length of time a refinance might take. The timeframe could also be lengthier for more complicated applications or if there are issues with external factors such as valuations and if Lenders Mortgage Insurance (LMI) is needed.
Purchase time - your settlement period
The time it can take until the settlement of your purchase occurs is agreed between yourself and the seller in your contract. If you come in to us with a signed contract, the application process itself will generally take us 30 days, or 45 days for more complicated loans. However, if the contract you've signed includes a 60 or 90-day settlement period, then this can delay the process even though all the documents are finalised.
Below is a simple infographic detailing the stages of the application process. Timeframes are also included in this that you can expect during each stage. While this is a handy visual that's good based on average applications, all applications can vary a bit and your Kingscliff mortgage broker will be able to give you a more accurate timeframe once the process is underway.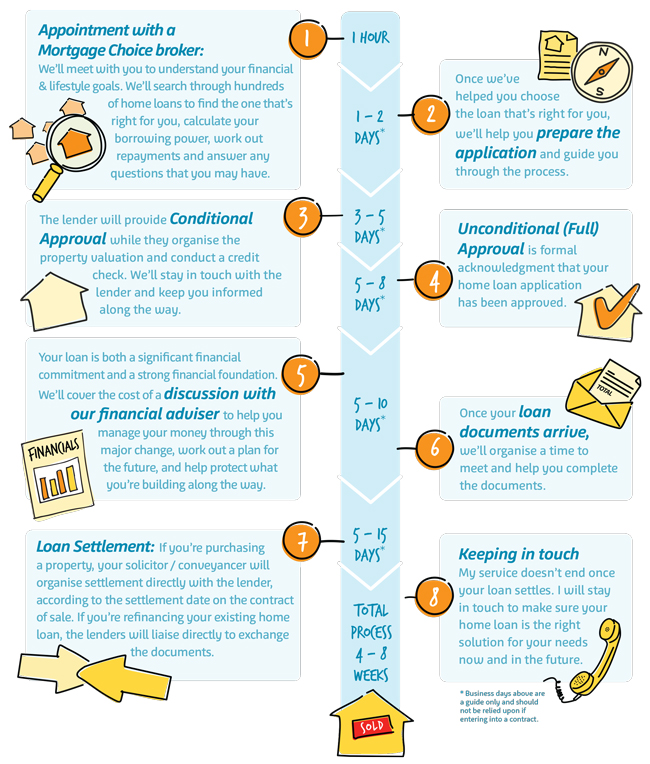 Come and see us today to get your application started - we are an experienced and efficient team who will challenge ourselves to work through your application as quickly as possible.
Call Jo Croft and her team today on 0425 293 453 or simply click on the Book Now button to make an online booking.