October 02, 2017
Joanne Nugent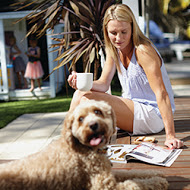 Based on the weather we've had in Brisbane this past week, Spring (or is that Summer!) is definitely upon us! And with the onset of longer days and sunshine it's time to head back outside for social gatherings!
Now if you're yard is looking a little like mine after the winter months (ie brown and VERY dry!) you may be considering a backyard makeover ahead of hosting those lazy days around the pool and fun-filled family barbeques!
So here are five simple tips that will help you transform your backyard into an entertainer's delight!
1. Plan, Plan and Plan Some More!
Every good home project starts with a good plan - and each plan should include cost, design, placement and process. Firstly start with your "canvas" by clearing out the space you wish to transform to determine exactly how much space you have to work with and how to best utilise that space. Often the best place to start when designing your backyard is by garnering inspiration from others - by visiting others' gardens, or through magazines and the internet.
2. Decide on (and stick to!) a Budget
Now that the design is in place, it's time to start bringing your new backyard to life! Starting with a firm budget is key to ensuring that you don't overspend, or worse still, find that you haven't the money to complete the backyard renovation. Start by making a list of all the expenses you need to include such as landscape design, council fees, trademan fees, equipment hire, drainage costs, timber and tools, landscape supplies, plants, furniture, outdoor lighting, paving and any new items such as a new BBQ, pizza oven or fire-pit. Next, start your research on suppliers of each either by heading out to backyard specialist stores and landscape yards, or via the internet, to find the best deals available. And another tip - before you buy, see what you already have in your garden or shed that you could re-use, recycle or upcycle - with any other items in good condition which you are not going to use being sold to help fund the purchase of new items. Finally, consider making backyard features multi-purpose - for example by adding a broader timber edge on the top of a low retaining wall provides additional seating space when you have those large gatherings - saving you money on having to hire or buy additional seating for those "one off" large backyard events.
3. Time to Get Dirty
When it comes to re-designing your yard, the landscaping is probably the toughest and most important bit to get right. Ensuring you have adequate drainage and a solid foundation for any paving or paths is very important in ensuring that this property improvement is a good investment. Engaging experts can be a valuable spend in this regard.
Your choice of grass and plants is also important to ensure that they can not only survive during the hot and dry months, but that they flourish - either by installing appropriate irrigation, or by selecting drought resistant or Australian native plants. If you're in an area where winter frosts are common, also make sure you're picking the right type of plants to survive those frosty winter mornings too! Investing in a good quality mulch is also a good tip as it helps retain the moisture in the earth and depending on the type of mulch you select, may provide valuable nutrients to the plants as it breaks down over time.
4. Time to Decorate!
Once all the hard work is done, the fun part begins - adding all the furniure and outdoor accessories such as colourful pillows, throws, hammocks, wall art and candles to make the space feel luxurious, happy and bright! Solar fairy lights are an effective and inexpensive way to transform your outdoor area into a sophisticated space for night time events, with a firepit adding a focal area and much needed source of warmth for your visitors in the colder months.
5. Keeping It Looking Fresh
Being outdoors, the elements of the weather - harsh hot sun, torrential rain and unforgiving westerly winds - can take a toll on your backyard. It's important thererfore to keep the yard protected over the years through some basic but regular yard maintenance - oiling timber decks, protecting outdoor furniture with covers, and ensuring your plants and lawn receive added nutrition - can make a huge difference to keeping it looking fresh!
With these tips, your backyard will be a wonderful extension of your home - and the perfect place to host memorable events for family and friends in the years to come.
If you would like some guidance on how you may be able to finance a backyard renovation, please don't hesitate to call me on (07) 3289 6193. With Summer on the way, there is not a better time to get busy in your backyard.