June 22, 2017
Joanne Nugent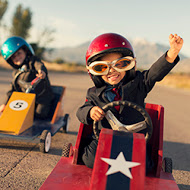 As we near the end of the financial year, you've probably noticed a host of car dealers and dealerships offering "once a year" sales. Yes, it is a great time to buy but you may be wondering how best to buy that new car.
For most of us, a new car means a new car loan and while car manufacturers often promote 0% interest during these 'run out' sales, interest rate isn't the only factor to consider when you decide on a loan for the purchase of your car.
You may not realise that in fact your Mortgage Choice mortgage broker can help not only with finding you the right home loan, they can also help with securing you a competitive car loan as well.
The interest rate will certainly be a key factor in your decision, but make sure you look at the other aspects of the offered finance which you may like to consider when deciding which is right for you.
Loan Fees: so while the interest rate may look great, make sure you investigate the other fees which you may be charged - including an application fee, an administration fee, late payment fees, and possible a prepayment fee. I can provide you with the list of fees and features associated with car finance and help you to make an informed decsion in regard to the loan you choose.
Fixed or Variable Interest Rate: Just as with any home loan, the decision as to whether you chooose a fixed or variable rate is an important one. There are advantages and disadvantages with both - including repayment certainty, and repayment flexibility - so make sure you understand the benefits and limitations of each before making a decision.
Loan Term & Repayments: Depending on your personal situation, the term of the loan can have a big impact on your repayments - so make sure you are happy with the amount of the repayments. If you choose a shorter term loan, while the interest paid will be less overall, the repayments will be higher during the term of the loan. Likewise, if you choose a longer terms, the total interest paid will be greater, but the regular repayment amount will be less. So again, make sure you're happy with the repayment amount and frequency and ensure it is appropriate for your financial circumstances.
If you have any queries, or require any additional information about the motor vehicle finance that Mortgage Choice can offer, please call 0409 363 420 today to discuss your needs and let me help you find the right finance for your next car loan.