July 17, 2017
Joanne Nugent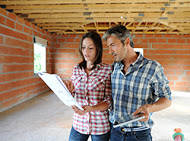 So you love the location of your current home but it's just not meeting your current needs. Whether it is to accommodate a growing home business, or just a growing family, for many people renovating their current home is the better alternative to moving when it comes to solving their current housing dilemma.
Sometimes the cost of renovation is more cost effective when compared to moving home given the associated selling and purchasing costs to relocate. So if you have now decided that renovating is for you, and you have your plans in hand, you may now be wondering how to fund the project - and this is where I can help.
Depending on the nature of your home renovation, and your current financial situation, there may be a number of financing options available to you. These may include a loan top up (using the existing equity in your home), a line of credit loan, a personal loan or a construction loan.
To ensure you make the right decision for you, I'd strongly suggest you seek specialist help, and as a first step I'd recommend that you speak with a local mortgage broker. Your local mortgage broker can provide you with information regarding your financing options, and guide you through the process to ensure that the selected renovation financing meets your specific requirements and circumstances.
Improving your lifestyle by renovating your home is a great option, but make sure you have done plenty of research and have considered the following before heading down the renovation path:
Don't Over Capitalise
It is probably wise to engage a real estate agent to provide you with an appraisal on your house "as is" and a theoretical appraisal of your renovated home with the additional bedroom, living room and pool (for example) by comparison to other similar properties in your area. This will give you an idea of the value of the renovated property. You can then compare this value with the builders quote to make sure you are not over capitalising. Overcapitalising occurs when the cost of the renovation or home improvement is higher than the increase in value to your property.
Capture All Costs
Speaking of the cost of the renovation, make sure you have included ALL costs of the renovation, including not only the construction, but any associated demolition, relocation of services (such as water, electricity etc), architect fees, council fees, painting, plumbing, flooring and lighting. There is nothing worse than finding that your budget doesn't extend to cover an unexpected cost that is critical to completion of the renovation.
Choose Carefully
And finally, make sure the builder you engage is reputable and has undertaken similar renovations in the past. Inspect other renovations undertaken by that builder and speak with his previous clients. Make sure also that the quoted price is comparable and competitive and that there are appropriate and adequate protection clauses in the building contract. Better still, make sure you have a solicitor review the contract to ensure you know exactly what the terms and conditions of the build so you're not caught unaware of any additional costs.

When a renovation is carefully considered, well planned and appropriately funded, it can be the key to optimising the value of your home and ticking all the boxes in terms of meeting your lifestyle and needs - perfectly tailored for you and your family. Not only will you have the home of your dreams now, but potentially a very valuable asset that will continue to deliver capital growth to you and your family well into the future as well.
Call me today on 0409 363 420 if you would like to discuss how best to finance your home renovation.