November 27, 2017
Joanne Nugent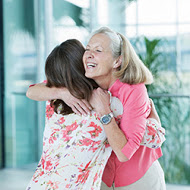 Buying property in Australia has become increasingly difficult for many first home buyers. One of the biggest challenges for first home buyers is saving a sufficient property deposit. Unfortunately, as property prices continue to rise, wage growth has stagnated.
According to the Australian Bureau of Statistics' latest Wage Price Index, wages grew only 1.9% between the March 2016 quarter and the March 2017 quarter. Meanwhile, CoreLogic figures show that the mean dwelling price in Australia has risen 11.2% in the 12 months to March 2017.
If you are the parent of a first home buyer you may be thinking about how you could potentially help your child onto the property ladder. Thankfully, there are a few things you can do to help you child achieve their home ownership goals sooner rather than later.
Below are the four things you could potentially do to help your child into the property market.
1. Let them stay at home longer
If you don't mind having your child live at home well into their early adult years, then this is a great way to help them into the property market. By having your child live at home for longer, they will have the ability to save more money. With less bills and little to no rent to pay, your child will have a greater capacity to build a deposit. Of course, you shouldn't let you adult children live with you free of charge. It is important to still ask them to pay a small portion of rent to help out with the mortgage, bills and groceries.
2. Giving a cash gift
You can help your child overcome the challenge of saving for a deposit by giving them a monetary gift. While not every parent has a few spare thousand dollars lying around, if you do have the ability to give your child a cash gift, then this could help them into the property market sooner rather than later. It is important to note however, that any cash gift you give your child will have to be kept untouched in their savings account for at least three consecutive months to prove to a lender that your child is a reliable saver and can service the loan.
3. Go guarantor on a loan
You may choose to go guarantor on your child's loan by using the equity in your property as extra security. As long as your child is able to service a mortgage, this strategy could allow them to buy a home without a 20% deposit, thereby avoiding Lender's Mortgage Insurance. Furthermore, they won't have to save a huge property deposit, which could help them into the property market faster. And while there are several benefits associated with going guarantor on your child's loan, there are also some pitfalls that you need to be aware of. In the first instance, should your child default on their loan, as the guarantor you will be liable for the mortgage. It is therefore important to have a serious discussion and ensure you have a plan of attack should your child end up struggling with the mortgage.
4. Buy together
You may not feel comfortable being a guarantor and your child may not be able to afford to buy on their own, so you may want to purchase together. You should make sure you and your child talk in detail about how this loan will work. For example, how much are you each going to contribute to the deposit and the monthly repayments, and will your child eventually take over all the payments? You need to be clear with your strategies from the start so that the mortgage does not become a cause of disagreement down the track.
If you would like more information on how you may be able to help your child into the property market, call me today to discuss options and work out what is the right strategy for you.