May 23, 2017
Shae Aiello
Fremantle and its surrounding suburbs are a hot spot for First Home Buyers, yet many overlook the area. Whether you're looking to build something new, buy something brand new or buy an established property there are many opportunities.
If you're looking for a piece of land with a house your family can grow into, a low maintenance apartment or even sustainable small home close to public transport, Freo really has it all! In and around Fremantle, in suburbs like White Gum Valley, a significant effort is also taking place to create "the Missing Middle" and increase housing choice with a diverse range of medium density housing options.
Medium density housing not only provides more affordable options for buyers, it also meets the growing need of a broadening range of household demographics and lifestyles.
The low-rise style of building generally blends in with established housing types and requires less land to build more homes. It increases sustainability potential due to a smaller urban footprint and provides options for smaller households and first home buyers wanting to stay within the same local area as their family or an established community network.

Reduced Stamp Duty for First Home Buyers
The good news is that – there is no stamp duty on vacant land purchased for less than $300,000 or homes valued at less than $430,000. Stamp duty is applied at a reduced rate on more expensive land and housing options and cuts out at $400,000 for land and $530,000 for homes.
The $10,000 First Home Buyers Grant for building or buying a Brand New Home
If you are going to build a new home or if you have found a brand new housing option that is ready to be lived in, but has never been lived in, then you are eligible for the First Home Owner Grant of $10,000. Essentially, this could mean $10,000 less deposit that you need to save if you want a brand new housing option.
Do I need a Guarantor?
You may have heard talk of Guarantors and be wondering whether you'll need one. I've written this blog post about Guarantors which should help you understand the topic further, but this is definitely something we can discuss together.
It's all so confusing!
It doesn't have to be and that's where I come in! I have been a Mortgage Broker in the Fremantle area for over 14 years and my knowledge and experience can help demystify the home buying process for you.
I'll sit down and review your current financial situation and future goals, and together we will work out everything, including:
how much deposit you will need;
which lender to go with;
whether you should go for a fixed or variable loan;
whether you should choose principal and interest (P&I) or interest only (IO) repayments;
how much your Loan to Value Ratio (LVR) will be;
whether you will need to pay Lenders Mortgage Insurance (LMI);
what fees and charges are involved; and
As you can see in the below image, I will be with you every step of the way to answer any questions and offer guidance, even after you are settled in your new home.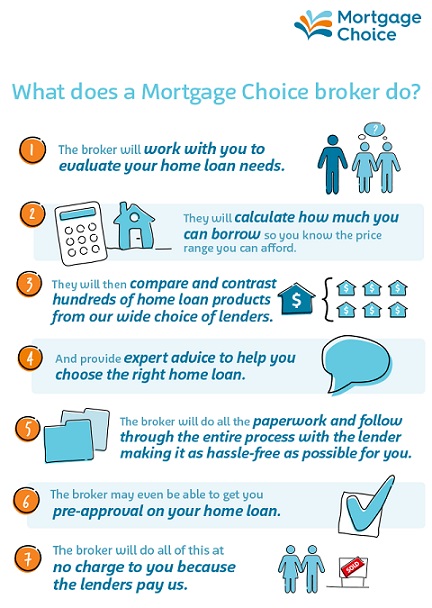 And best of all, as a Mortgage Choice broker I get paid the same rate regardless of which home loan you choose from our wide choice of lenders. To get my help in purchasing your first home at no cost to you, call me on 0407 111 121.