August 31, 2016
Jenny Pham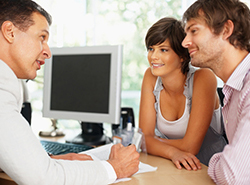 Banks reject home loans for a variety for reasons, making it a complex process that can be hard to understand sometimes.
The best chances for securing a home loan is by making sure all your financial affairs are in order, your pay slips are in hand, and that you don't stretch the truth.
Top reasons banks reject home loans:
Insufficient income - This is one of the main reasons for rejection, especially if you're trying to borrow more than 80% of what the property is worth. Having proof of reliable and consistent income is also extremely important.


Inadequate deposit - With the market constantly fluctuating, the deposit required to purchase a home will fluctuate as well. One way to combat this never-ending cycle is having equity. Lenders are more comfortable servicing clients that have equity in other properties, so having this safety net could mean the difference between being approved or denied for the loan, and this could include having a guarantor that's willing to offer their property as security if required.


The house is not acceptable - A property's location and the state of the surrounding area is crucial to the decision-making process for lenders. Other factors that lenders take into consideration are conditions of the property, whether it has structural problems, asbestos or living area is too small. Make sure that the property exists as you've described it, so that a valuation proves it's a worthwhile purchase.


Bad credit history - Unpaid bills can show up on your credit history, even dating so far back as those pesky mobile phone bills in your teens that you just couldn't pay. The worst thing you can do is to try and hide bad debt; it'll eventually get discovered and when it does, lenders will definitely set you back. The best thing you can do is to talk to our Financial Adviser, Steven Wong, to make sure your finances are on track and in order, even before you are thinking about applying for a loan. Click here to get to know Steven!


Signs of instability - Any sign that you are an unacceptable risk lowers the chances of your loan being approved. Lenders want to see that you have intentions to stay at your job, and that you have employment continuity. The ideal applicant has been in their job for at least a couple of years and can demonstrate that their environment is stable.


Banks can't always understand - More often than not, banks aren't able to look at your situation on an individual basis because there isn't much wiggle room with their internal policies. By going to a broker, we're able to get a holistic understanding of your circumstances and then represent your individual situation in the best light to improve the chances that you'll get approved because we have access to many lenders not just one.


Let's make it work!
When one bank says "no," do you have the time or energy to yet again prepare another application with another bank, and so on? With a mortgage broker, it's a one stop shop. Submit all your details and documents just once. I'll take care of the rest all the while keeping you informed and up-to-date the whole way through.
Want more useful tips and helpful information? Call me now at 0499 643 643 to set up an appointment for a free and no-obligation chat.