July 03, 2016
Julie Browne
Most online mortgage broking websites have a "How Much Can I Borrow" calculator similar to the one shown below.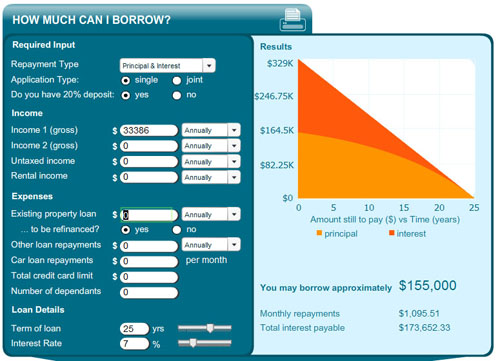 What is borrowing capacity?
Borrowing capacity calculators can be useful in providing a very high-level indicative figure that you can borrow for your home loan. But it can be dangerous to rely on these calculators alone as they don't take into account all your details.
Knowing what is considered by banks and lenders in Australia before they will actually confirm the maximum loan amount that you can borrow from them is an important part of the home loan process.
Different lenders impose different criteria on how much you can borrow. Your borrowing capacity is primarily based on your income & household expenses.
In addition you might be quite surprised to discover that your credit card debts, other personal debts, savings strategies and employment type may affect their borrowing capacity.

Credit Cards & Personal Debts
When applying for a home loan, lenders almost always take your credit card limit into account, even if your card is paid off in full each month. It's generally not a question of how much you owe on credit cards – it is the credit limit a borrower has.
In addition, lenders don't like to see too many credit cards, as it implies a lifestyle supported by credit.
Similarly, broadly speaking, every $1 of personal debt will reduce a person's borrowing capacity by $5. So, for example, someone with a $10,000 credit card limit and a $10,000 personal car loan may find their borrowing capacity is reduced by almost $100,000.
If you want to maximise your borrowing capacity, you will need to get rid of, or at least reduce, your credit limit on credit cards and/or pay down your personal debts.
Deposit sizes
The size of your deposit is another factor that could limit your ability to borrow. While some lenders accept a 5% deposit, it's becoming more common for lenders to require 10%.
Most young borrowers with a secure well-paid job find they still can't get a loan since they haven't started a savings strategy.
Get to work on building genuine savings, since you need to show evidence of savings over a 3-month period.
If you have plans to sell a car (or other items) so that you can put the money towards your home, do it sooner rather than later.
If you think that you will be unable to save enough for a deposit, asking a parent to become a guarantor for your home loan is another option to consider.
Employment types
The nature of your employment can impact borrowing capacity. Permanent part-time employment tends to be viewed more favourably than casual work, despite casual work often paying a higher rate.
Similarly, self-employed people may be eligible for what's known as a 'low doc' loan. These loans are suited to people who may find it difficult to provide documentation (such as regular pay slips or tax returns) to validate their income and savings.
However the borrowing capacity will be reduced in these circumstances since lenders will want to mitigate any future risk of the borrower being unable to make their home loan repayments due to a change in your business circumstances.
Assessment Rates
Lenders do not use the current interest rate when assessing your capacity to make loan payments.
Instead, they use what is called an assessment rate, which can impact on your ability to get a loan and the amount that can be borrowed. The assessment rate is typically between 2 per cent and 4 percent higher than the interest rate on the loan.
Lenders use this method to allow for any future movements in the interest rate or, more specifically, to ensure you can still afford the loan if interest rates increase.
In addition, a lender may have different assessment rates for each of their loan products. Sometimes, for instance, a fixed rate loan will have a lower assessment rate than a variable loan because the interest is locked in for a set period of time.
To summarise, different lenders will offer you different loan amounts and hence your true borrowing capacity will be vary from lender to lender.
It clearly pays for borrowers to contact an experienced, qualified finance broker who can guide them towards the lender that is most suited to their needs and situation.
Call our office on 8342 5688 or after hours on 0421 206 543 for a confidential no-obligation discussion on your property purchase goals & aspirations, and I will assist & guide you through the process of making your property dreams come true.