August 03, 2015
Julie Browne
Have Your Say on Housing Affordability
Recent data from the International Monetary Fund (IMF) found Australia to be the third most expensive place in the world to buy a house when you compare incomes to house prices, making housing affordability a real and growing issue in this country.
As house prices skyrocket, many young Australians are being forced to deal with some pretty tough and depressing questions, like: how do you buy a home when the average price of a house is 10-to-11 times the average wage?
The table below reflects the dilemma faced by most first-home buyers in Australia. For example, first time buyers in Sydney now need to save a $165,100, 20% deposit to purchase a median priced property.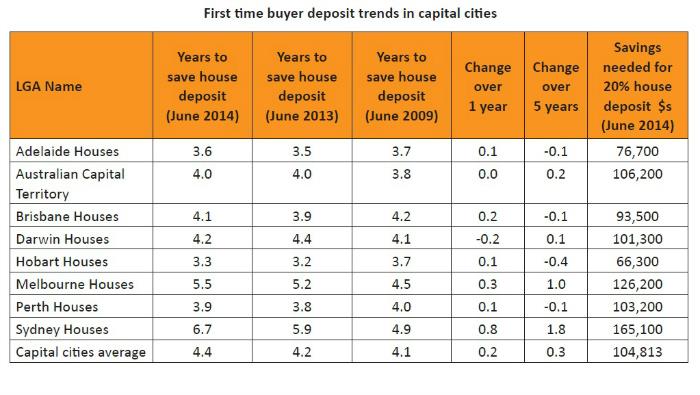 The biggest factor driving demand is a growing population. Australia's adding an extra person to its population every minute and 20 seconds and we're on track to be a country of 35 million in just 15 years' time. Increasing demand and sky-rocketing house prices are driving new home buyers away from established metropolitan suburbs. As an example, new housing estates on the fringe of Sydney used to be vacant grassland. But as the city grows, people are heading west to own their little piece of Australia. On the other side of the country, Perth is already 100 kilometres long, entirely based on sprawl and the availability of housing that's affordable in the wrong places.
Whilst the supply of housing is failing to keep up with demand as our population grows, this is not just a supply issue. Investors, those who already have a house and are buying more, are being blamed for inflating prices, rushing in to take advantage of record low interest rates and tax incentives like negative gearing and capital gains tax breaks.
To get their foot in through the door, young home buyers are getting creative to get into the heated market. The most common trend in recent times has been 'rentvesting' - buying where affordable and renting where you want to live. Rentvestors are predominantly the first-home buyer who has come up against the affordability barrier. They want to keep the lifestyle they're accustomed to in terms of living closer to the city and all the social amenities, but they can't afford to buy in that location.
The recently Federal Government initiated Parliamentary Inquiry into Home Ownership doesn't look terribly different to the one conducted through the Productivity Commission in 2004. The government seems to be just sort of gesturing to public opinion rather than delivering positive incomes.
At Mortgage Choice, we really believe in listening to the voice of the consumer. Given that the government's inquiry has failed to ask Australians for their input, we thought it was only fair to give consumers a launch pad to share their thoughts and opinions on the property market and housing affordability.
So we have launched the 'Have Your Say' campaign, which encourages Australians to share their opinions on housing affordability. What we want to do is get a critical mass of opinions and feedback, and keep it going as long as it takes. The more voices and the more real stories we can get, the more useful this is.
We're trying to get meaningful feedback. Comments from the 'Have Your Say' campaign will be collated and provided to the government as evidence of the real-life impact of housing stress and the need to act on addressing affordability constraints. We'd love to hear from you at https://www.mortgagechoice.com.au/have-your-say.aspx.
Alternatively, do not hesitate to call me on 0421 206 543 or email julie.browne@mortgagechoice.com.au for a confidential no-obligation discussion on your concerns related to housing affordability in Australia.