With interest rates sitting at historical lows, most First Home Buyers consider that now is a great time to purchase property and get off the rental train.
The first hurdle is the amount of minimum deposit required and understanding what how far that deposit will go towards the purchase costs of a property.
Property Purchase Costs
You often hear of the requirement to have 5% deposit towards your first home purchase. This is deemed to be your genuine savings and generally must have been saved for 3 months prior to purchasing a property. In addition to that 5% , is other costs for government stamp duties, lenders mortgage insurance, pest/building inspections, conveyancing, valuation, removalists, lender fees and property insurance.
The table below gives you an indicative idea of the purchase costs, and more importantly the minimum deposit that you will need to contribute for 3 scenarios based on affordable property purchase prices in South Australia.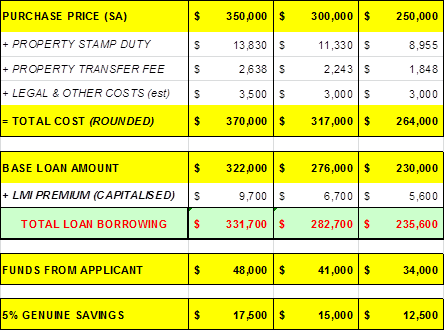 Having understood this basic calcution here are some tips to help with your first home purchase.
First Home Owner Grant
The First Home Owner Grant (FHOG) of $15,000 in South Australia is paid to eligible first home owners and applies to the purchase or construction of a new residential property, including a house, flat, unit, townhouse or apartment. The property must have a market value of $575 000 or less, and must be occupied as each applicants' principal place of residence for a continuous period of at least six months commencing within 12 months of date of settlement for contracts to purchase, or the date construction is completed for owner builders or contracts to build.
Genuine Savings
In circumstances where home loan applicants have less than 20% (plus purchase costs) to contribute towards the purchase of a property, lenders require home loan applicants to have 5% Genuine Savings to be saved and held over a minimum period of 3 months in a savings account held in the applicant's name. Term Deposits and Shares purchased and held by the applicant (in publicly listed companies) can also be considered as Genuine Savings.
Rental History
In some circumstances, it is possible to have historical rental payments considered as proof of genuine savings. Some lenders will consider your last 12 months' continuous rental payments in the same property as long it is managed by a licensed property manager/agent. This is a good option when you have been struggling to accumulate your Genuine Savings whilst renting.
Gifted Funds
It's becoming more and more common for parents and family members to help their children get into the property market with a gift of money. When a family member does gift the money, lenders will look for proof that this is in fact a 'gift' and that you are not expected to repay the money. Lenders will want to see a statutory declaration that the money comes from an immediate family member and is non-repayable.
Guarantors
Asking a parent (or a sibling or grandparent) to become a guarantor for your home loan by using the equity they have in their property is another option to consider. The primary security for the loan will be your property, but the lender will also take a mortgage over your guarantor's property. The guarantee mortgage can be released and the guarantor's responsibility stopped without the loan being repaid in full. To use a guarantor, you must be able to service the entire loan on your income.
Buying with others
If you are to put aside enough money each month to save a deposit for your first home, you could consider pooling your money with others, be it a partner, friend or family member. If you decide to go down the path of co-ownership, it is important to seek legal counsel as this will help you to address all the important issues upfront, such as what would happen if one person sold their share or defaulted on their mortgage.
Pre-Approval
Finally, it is a good idea to get ahead with pre-approval before hitting the pavement in search of your new home. This will give you a good idea of your borrowing capacity and save you from looking at properties that are not in your price range.
Call our office today for more tips and advise or fill out our online form to book an appointment.