Your local mortgage brokers and loan experts in Thornlie, Gosnells & Harrisdale
For over 17 years, our Mortgage Choice team in Thornlie have been helping the local community reach their financial & property goals. We'll help to guide you through the home loan process while finding you the right home loan from our panel of over 25 lenders. And all at no cost to you!
Call Us
Office - 0414 756 049
Open Hours

Monday - Friday: 9:00am - 5:00pm


After hours by appointment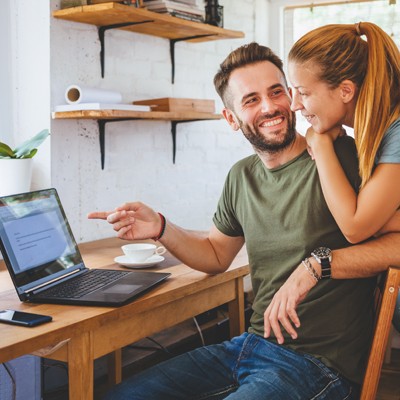 Latest home loan interest rates
Life is short. Let us do the work for you.
We started this Mortgage Choice business over 17 years ago, and we're more passionate than ever about saving our customers the time & energy that goes into finding the right home loan.
Choosing the right home loan could mean a great low interest rate and features to support you getting the loan paid off quickly. The problem is, there are more lenders than ever on the market making it even more difficult to find the right one. That's where our team in Thornleigh and Gosnells can help.
We will sit down with you to figure out what you're after and go through your numbers with you.
Our team will sort through our range of home loans and lenders to find the right fit for you.
We will then complete the application paperwork and submit to the lender, answering any questions they have about your application on your behalf.
Our team will follow up with your lender to ensure that your application is moving  through to settlement.
We'll even remind you when it's time to review and perhaps refinance your loan to a lower interest rate or better features.
We have over 25 lenders available
Going straight to your bank will only give you access to a limited range of home loans, which may not fit you or your purchase. It's also doesn't give you the opportunity to shop around for the lowest rate. It's just one of the reasons so many Australians choose to use a mortgage broker!
At Mortgage Choice with have a wide range of over 25 lenders - including the big banks and some specialist lenders - to give you access to quality lenders with great loans. We review our full range of available home loans to see what would fit you best! We will then negotiate with the lender on your behalf, so you don't have to. Find out more about our home loan service.
What sets Mortgage Choice apart?
There are some fantastic reasons to use a mortgage broker, including the fact that our service is no cost to our customers. It's because your lender pays us a commission after your home loan has settled with them.
More than home loans
Our team are proud to be able to offer more than just great home loan advice. We can help you with your car loan, financial plan, business & equipment finance, first home buyer incentives & grants, budgeting and much more! We have worked hard to be your local finance expert team in Thornlie & Gosnells, and believe in offering a wide range of services outside of just your home loan.
We're ready to help
If you're ready to purchase your next home, car or business - even if you're still in the planning stages - our Mortgage Choice team in Thornlie and Gosnells would love to help.
Contact us today for a no obligation chat on 08 9259 4488 or click on the Speak to us button to book a call back.
Our team service the areas of Thornlie, Gosnells, Harrisdale, Armadale, Byford, Kelmscott, Southern River, Maddington and surrounds. 
"We have gone to Lance & Gina many times. The service is great and very helpful. I would go to them in the future and have advised family & friends to do the same." (Margaret, Gosnells)
Could you save on your loan?
The right home loan for your needs
Our mission is to find the right home loan for your individual needs and to always have your best interests at heart. Plain and simple. Which is why we have such a wide range of lenders to choose from. We can search through hundreds of products to find something tailored to your situation. ~
Client reviews
A friend in the industry recommended these guys to us. She said Lance knows his stuff She wasnt wrong.
After our first meeting to assess our finances Lance told us to go and find a house. That was actually the hard bit When we finally found something the mortgage choice team were incredibly efficient and helpful throughout the whole process. And as clueless first homebuyers thats very reassuring.
T... read more
My Testimony I approached Gina and Lance with the ambition to buy my first house within 6 months and they confidently shook my hand and said Lets Do IT Gina and Lance were with me every step of the way, from deciding a budget to signing contracts, they answered all of my questions throughout the entire process of obtaining my home loan. They were professional, efficient and an absolute pleasure to... read more
Mortgage Choice went up and beyond in the organisation and execution of buying my new home. Would recommend to anyone wanting a stress free home loan.
Josh Michael was very professional, knowledgeable and punctual.
Thanks Mortgage Choice
Lance and Gina helped me purchase my first home, couldn't be happier with their advise and assistance through the whole process
Lance and the team at Mortgage Choice gave us the best broker experience we have had. Amazing service, great team, smooth and worry free and the personality and nature of the team just made the whole process easy. Thanks for your hard work Lance and will definitely use again and recommend these guys to anyone.
I'm totally satisfied with their level of service. They are able to meet a very tight deadline and in my case, we have only 14 days to get the finance sorted out for our investment property. I've been told that under this current market environment that is almost impossible. Thanks a lot Lance and Gina.
Lance and Gina have been looking after us for years. They provide guidance and options that always have what's best for us in mind. I would highly recommend them to any one that's looking to refinance or needs someone to really look at what's the best options for them. Having the right mortgage for you is critical in reducing interest and ensuring you are paying down the loan.
Lance and Gina were incredible every step of the way and constantly giving me updates throughout the process. Couldn't be happier with their help
I am finally happy settled into my new home and this is all thanks to Lance Mackichan. Lance has been my broker for a number of yrs now he has never failed in helping me. Lance has always made time to answer my queries in a timely manner even when he is busy and has updated me on a regular basis on how my applications are progressing which i like. I definitely would recommend Lance to anyone wanting to take out a loan or mortgage. I have always had a great experience and i bet you would too.
Working with Lance MacKichan and Gina MacKichan was a very easy and stress less process. We can't thank you enough for all of your help and advise.

Lance MacKichan & Gina MacKichan from Mortgage Choice in Thornlie made the whole process hassle free and easy. They were very friendly and easy to talk to and genuinely cared. Continue to do exactly what you are doing. I Would highly recommend Mortgage Choice Thornlie
Both Gina MacKichan and Lance MacKichan from Mortgage Choice in Thornlie are fantastic people and very helpful, not to mention a funny duo they were always there to help and guide me without hesitation and tell it to me straight. They helped me into my first house and I would highly recommend them and will definitely use them again for my next adventure into buying a property.


Gina MacKichan and Lance MacKichan are a wonderful professional and very efficient team. I would have no hesitation in recommending or using their services again. They kept me informed at all times and reassured me of any questions or concerns i had in a prompt manner. I look forward to a long business relationship with their company for all my future financial needs. Thank you Lance and Gina very happy

Lance MacKichan and Gina MacKichan have been supporting my family and I with financing since 2009. They hold our confidence and thanks for handling the matters we have entrusted them with.
I have always found Lance MacKichan & Gina MacKichan from Mortgage Choice to be informed, knowledgeable and competent in all dealings

I have quite simply never experienced a higher level of service from anyone in my life. Lance MacKichan and Gina MacKichan have managed to procure me a highly satisfactory outcome to the difficult and demanding mortgage requirements I have presented them with on more than one occasion, and it is always a genuine pleasure dealing with them.

We have gone to Lance MacKichan and Gina MacKichan many times. The service is great and very helpful, I would go to them in the future and have advise family and friends to do the same.

Thank you Lance and Gina for your friendly and professional service. As first home buyers you have not only made this experience easy for us but also very pleasant. Very much appreciated.

The team at Mortgage Choice in Thornlie are very helpful with clients and keep them informed of progress of their loan. Clients speak very highly of both Lance & Gina.
Refinancing guide
Considering refinancing? Our guide explains the reasons, costs and steps involved in refinancing your home loan.