May 24, 2017
Daniel Ellul
The suburbs of Alphington and Fairfield are located close to Melbourne's CBD, but with its parklands, leafy streets and shopping village, the area has the feel of a small town.
1. LOCATION:
Alphington has a population of 4,603* and is located 7 kilometres away from the CBD, while 5,946* people live in Fairfield and is just 6 kilometres from Melbourne's CBD.
Both suburbs have the postcode of 3078 and are part of the Darebin and Yarra City councils. The neighbouring suburbs of the area are: Abbotsford, Clifton Hill, Northcote, Thornbury, Ivanhoe, Kew and Kew East.
2. STYLE OF HOUSING:
In Alphington and Fairfield, the majority of homes are separate houses with a combination of brick veneer and period weatherboards.
The breakdown of housing in Alphington is **:
Separate House = 66.2%.
Semi Detached = 11.2%.
Flat/Unit = 22.6%.
The breakdown of housing in Fairfield is **:
Separate House = 52.7%.
Semi Detached = 10.9%.
Flat/Unit = 35.9%.
Other = 0.5%.
As Alphington and Fairfield, is becoming discovered by more people, a number of people are moving to the area, with older homes being purchased, renovated or replaced with modern townhouses.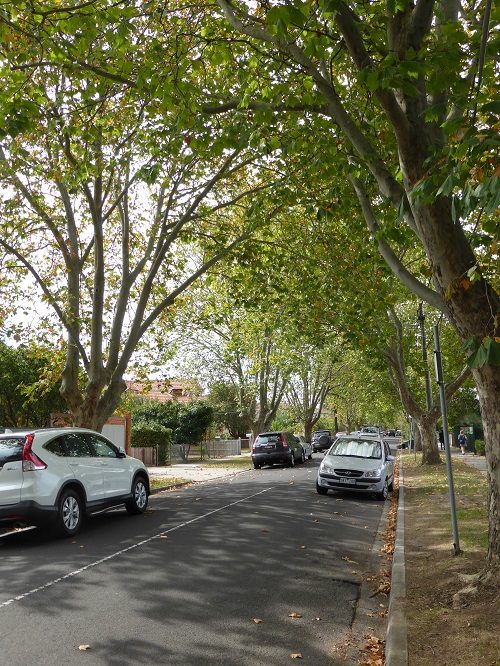 A residential street in Alphington
3. TRANSPORT:
The area has two railway stations: Alphington and Fairfield, which are both part of the Hurstbridge line.
Bus services pass through the area, with bus routes 508, 546 and 567 operating in both suburbs, route numbers 510 and 609 covering Fairfield, with route 350 servicing Alphington.
There are also a number of walking and cycling paths, linking Alphington and Fairfield to other nearby suburbs including:
Hurstbridge Line Shimmy bike route.
Christmas Street Shimmy bike route.
Darebin Creek trail.
4. PARKLANDS:
Part of the appeal of Alphington and Fairfield are its parklands.
The Darebin Parklands, is a conversation park located in Alphington, with natural scenery including rocks, trees, wetlands and Darebin Creek running along the east side. The parklands most popular feature is the Spiritual Healing Trail, which were a gift from the local Aboriginal community as a symbol of reconciliation.
The Yarra Bend Park is located across both Fairfield and Kew, it is one of the largest parks in suburban Melbourne. The Yarra River and Merri Creek, flow through the park and is home to a variety of wildlife. The park, contains golf courses, boathouses, walking and cycling trails, football ovals, plus picnic areas.
5. SHOPPING AND RESTAURANTS:
In Alphington and Fairfield, life is all about local and community feel and the Fairfield Village epitomises this. It is the heartbeat of the area, comprising a variety of shops, cafes, restaurants, plus local businesses and services, with many residents gathering there. The zone covers Station Street, along with Gillies, Duncan and Wingrove Streets.
The Fairfield Industrial Dog Object (FIDO) is one of the landmarks of the village, located on Station Street, next to Fairfield Railway Station.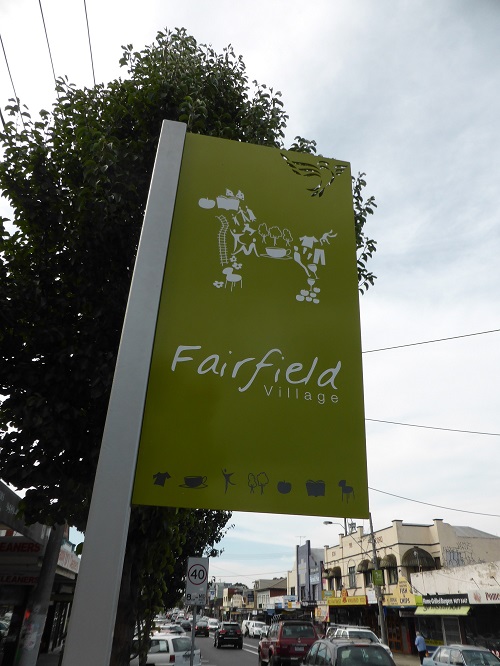 Fairfield Village
6. DEVELOPMENTS IN THE AREA:
A number of developments are being made to enhance Alphington and Fairfield.
In late 2016, the local community were asked to provide input as to how Fairfield Village, could be improved and through this engagement, over the next few years, a number of upgrades will be made to the area, to enhance public space, character and movement.
The Alphington Paper Mill site (AMCOR site), located on the corner of Heidelberg Road and the Chandler Highway ceased operations in late 2012 and in 2013, the 16.5 hectare site was sold to a developer, so a new mini-suburb by the name of 'Yarra-Bend', can be created, which will be home to approximately 5,000 residents.
The Chandler Highway, is a road, which many drivers use to travel to/from Alphington and Fairfield, it contains only two lanes and being only 1.5 kilometres, it suffers from some of the worst traffic congestion throughout the whole of Melbourne. In 2016, the State Government announced that the road will be upgraded, so the highway will be widened to include six lanes and a new bridge over the Yarra River.
7. DEMOGRAPHICS **:
Most popular Age Group, living in the area are aged 15-65 years, in Alphington they make up 69.6% of the population and in Fairfield it is 72.7%.
Median Age in Alphington is 38 and in Fairfield is 36.
Median Household Size in Alphington is 2.5 and in Fairfield it is 2.3.
8. MEDIAN PRICES ***:
Alphington Median House Price is $1,677,500.
Alphington Median Unit Price is $640,000.
Fairfield Median House Price is $1,325,000.
Fairfield Median Unit Price is $600,000.
* ABS data.
** Based on propertydata.com.au: Alphington and Fairfield suburb profiles.
*** Based on realestate.com.au figures (1st May 2017).