November 07, 2017
Melinda Halloran
Not sure if refinancing is the right move for you? Or how much you could save?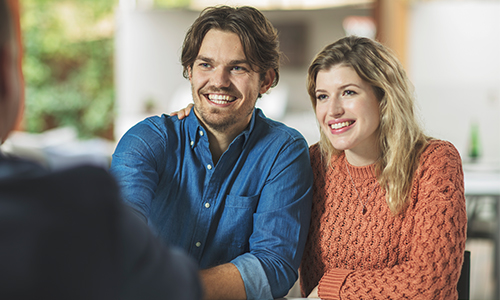 Comparing home loans is a time-consuming process – especially if you are a stickler for reading the fine print. So it's no wonder that most home owners find it easier to set and forget their mortgages.
But if you have been wondering if there is an easier way to get a better deal, there is. Our free home loan health check gives you all the information you need to make a decision.
First though, let's look at the ways you could save money and grow your financial portfolio by refinancing, and how the process works.
Why should I refinance my home loan?
Refinancing is the process of switching your home loan. Whether you want to find a better deal, move to a new lender or access more features, there are many reasons why home owners choose to refinance. These include:
| | |
| --- | --- |
| MOTIVATION | BENEFIT |
| Lower interest rate | Even a small weekly saving in interest can add up to thousands of dollars over the life of a home loan. |
| Lock in a fixed rate | As well as giving you peace of mind, a fixed interest rate can save you money if interest rates begin to rise and helps you to better manage your budget. |
| Access more features | Mortgage features such as flexible repayments and an offset account allow you to pay your loan off sooner and reduce the amount of interest you accrue. |
| Switch to a basic loan | Choosing a loan with fewer features means you will pay less in loan fees. |
| Consolidate debt | Consolidating high-interest debts into your home loan will reduce the amount of interest you pay on these debts. |
| Unlock equity | Equity is a source of capital you can use for renovations or to purchase an investment property. |
How does refinancing work?
Step 1: Find a new loan
When you work with a mortgage broker, this part is easy, as your broker compares your options for you. Each individual lender offers a range of home loans, but they won't all be right for you.
To compare loans, you need to identify your future financial goals and current budget, and work back from there to find a product that's the right fit. We compare fees, interest rates, features and loan conditions for you.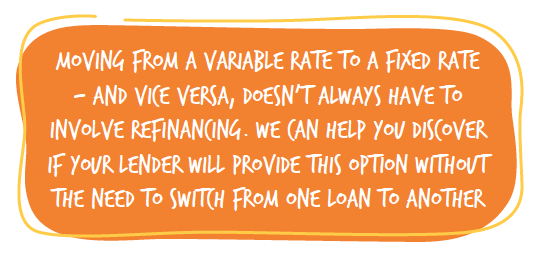 Step 2: Apply for the new loan
Once you have chosen a loan that checks all the boxes, refinancing is pretty similar to the process you would have experienced when applying for your original loan.
If you didn't use a mortgage broker for your first loan, then expect the process to be a lot less stressful, as I liaise with the lender for you.
To apply, the documents you need to supply are:
Your last two pay slips
You last two tax returns (if you are self-employed)
Any record of savings you have (e.g. bank statements)
Records of any money you owe (e.g. credit card or loan statements)
A recent super statement
Latest council rates notice
Evidence of building insurance you have on your property


Meet our team (left to right): Benny, Luke and Karen.

Step 3: Settle into your new loan
When your new loan is approved, the transfer happens on your behalf. You new lender will pay your old lender and all documentation will also be transferred for you.
After that, you start paying your new loan.
How a mortgage broker works
Eager to get a better deal on your mortgage without all the hard work? Let us crunch the numbers and file the paperwork for you.
We meet with you, compare your home loan with hundreds of competitive loans, complete the application, take care of the legwork and keep you updated along the way.
Wondering how we do this and keep our service free? Here's a look at how it works.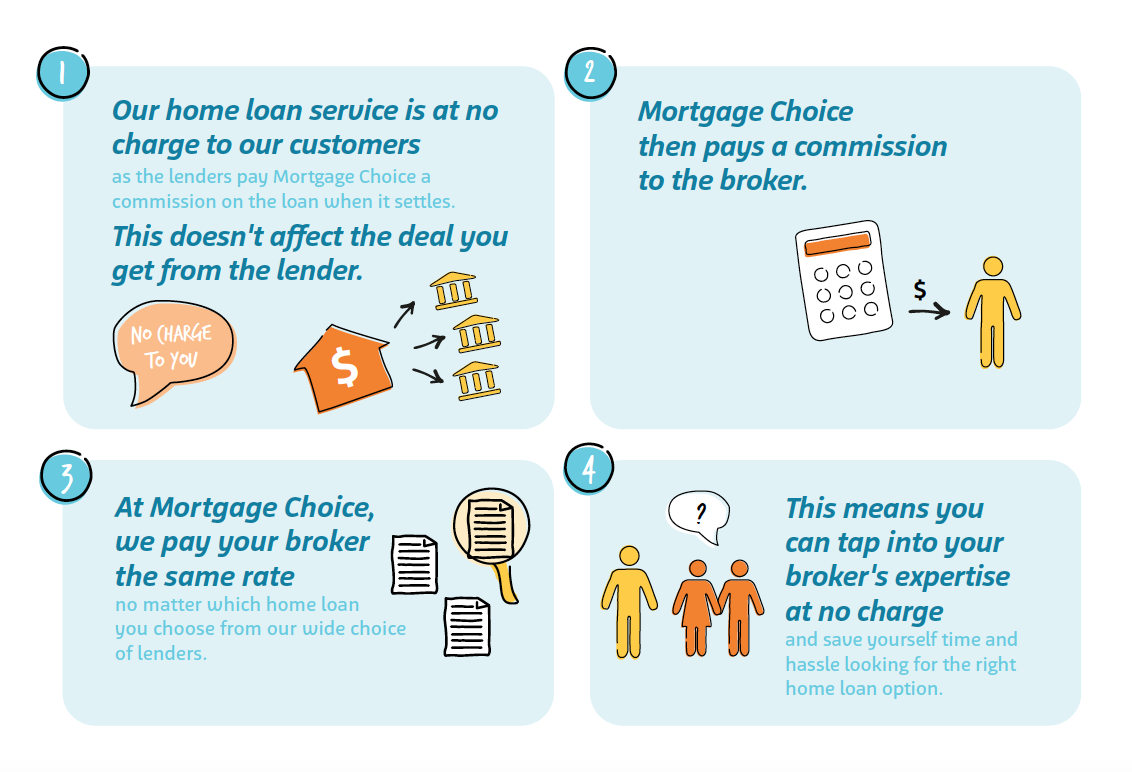 I'm interested, but still not sure if refinancing is right for me …
Refinancing won't be worthwhile if your current home loan is costly to exit. To decide what's best for you, arrange a free home loan health check.
This is where we compare your loan with the market to determine if refinancing will bring you out in front. Then you can make an informed decision about whether to stay or switch.

To book, complete the form below or call (07) 3343 4421.
You will find us upstairs in the professional suites at Westfield Garden City and I look forward to meeting you. – Luke