December 21, 2016
Melinda Halloran
Whether you want to sell, purchase a home or invest in property in 2017, it is useful to know where the property market is at and where it's going. So let's look at what happened in 2016 and what's in store for next year. 
I'm hearing from a lot of buyers that they're concerned the Brisbane market is not a safe bet right now due to apartment oversupply. While we are about to see a number of apartments come onto the market, you should also know that Brisbane still has one of Australia's most promising markets for houses compared with other capital cities. This strong housing market combined with the affordability of Brisbane property creates a promising outlook for buyers.
Here's what happened in the Brisbane property market this year and what we can expect as we move into 2017.
Growth for the Brisbane housing market
This year the price of houses rose by a modest 2.2%, which is down from the 4.4% growth in prices we saw last year. Right now the average house price in Brisbane is $525,700.
Around the country, a lot of markets are in correction mode after the high prices we saw last year. Comparatively, Brisbane's housing market has remained relatively robust, which is a promising sign given there are a number of factors negatively impacting the economy both locally and nationally. 
Most other Australian capitals also saw a decrease in year-on-year growth in house prices in 2016. Growth in Sydney was -0.4% compared with 24.4% in 2015, while growth in Melbourne came in at 4.8% compared with 16.9% in 2015. After last year's spike in prices, property markets around the country are now readjusting and this is expected to continue for the next few years. 
High demand for housing creates a strong growth outlook
While we are facing a potential oversupply of apartments in the inner city, many buyers are unaware that there is a general undersupply of housing in Brisbane. This means that house prices across the city will continue to grow while markets across the country flat line. 
In the 2015/16 financial year, the demand for housing saw prices rise drastically by 7.8% in the inner city.
Growth in the middle ring has been steadier at 2.2%, making this area far more affordable for buyers. With consistent growth forecast for the middle ring, this area is becoming increasingly appealing to buyers who want affordable housing that's within reach of the city and set for growth. 
Related: Brisbane southside's top performing suburbs 
Increase to the first home buyer's grant
In this year's budget, the Queensland Government handed down a $5,000 boost to the Queensland First Home Owner's Grant, taking it to $20,000. This is good news for first home buyers who are eager to get into their own home while interest rates are still at historic lows.
Many first home buyers who are purchasing their first home are choosing fixed-rate home loans, so they have the peace of mind of low interest rates in the first years of their mortgage.
To be eligible for the grant, buyers need to be purchasing their first home. The property they are buying must be newly built and valued at less than $750,000. The extra $5,000 is only available until June 30, 2017. 
More concerns about the oversupply of apartments
This year there were growing concerns about a potential oversupply of apartments. This is most apparent in inner-city areas such as Fortitude Valley and Newstead, where the highest concentration of development is taking place.
Outside of the city, however, there is a much more realistic supply of units coming onto the market, ensuring that buyers in these areas still have access to a range of housing options.
Due to the high supply of apartments, the average price of units in Brisbane is forecast to fall in the coming years, though as is typical with the property cycle, prices will then correct and start to increase. It's not just Brisbane where this is happening either. By 2019, Sydney's apartments are forecast to decline in value by -6.8% and Melbourne's average unit price is expected to fall by -9%.
This outlook could be good news for buyers who are looking to purchase a home at a cheaper price. If you are willing to hang onto your unit for the next few years at least, you will inevitably see prices start to rise again after the correction phase of the cycle.  
Brisbane housing market in 2017 in beyond
This year QBE released the Australian Housing Outlook Report 2016–2019 report, which forecasts trends in the property market over the next three years. Here in Brisbane, the median house price is predicted to rise by 6.5% between now and mid 2019. This growth may be modest, but it's very encouraging when compared with the outlook for the rest of the country.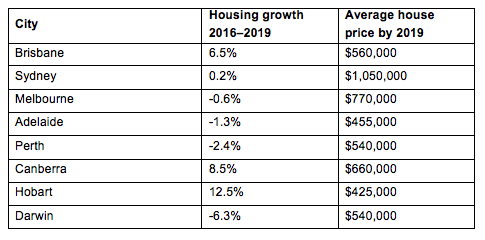 So together with Hobart and Canberra, Brisbane has the most promising housing market outlook of Australia's capital cities.
This will come as good news for buyers who want to purchase property here. This moderate growth will also ensure that affordability is maintained, with
If you are planning to buy in 2017, this market overview should help you to understand what is happening in Brisbane. The other piece of the puzzle to consider is your mortgage. If you have questions about borrowing and where interest rates may be going, please feel free to call me for a chat. 
– Luke Cashin 
0419 733 862 | luke.cashin@mortgagechoice.com.au 
Your Garden City Mortgage Broker, Brisbane