September 05, 2017
Melinda Halloran
Whether to buy a house or an apartment is one of the most hotly debated real estate topics. While there is no clear winner, it is helpful to take a look at your local housing market when making a decision – here's a snapshot of the current Brisbane property market and what the experts are predicting for the future.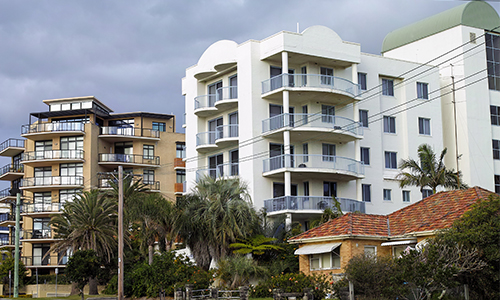 When deciding whether to buy an apartment or house, there are many factors to consider, including your lifestyle, where you want to live and what you can afford. While a house gives you more room for living, it also comes with a lot more maintenance.
An apartment, on the other hand, is lower maintenance and generally cheaper to purchase and maintain, however you will need to account for body corporate fees.
Which is better? That answer is different for everyone. Many buyers start off with an apartment to get into the housing market and work their way up to house, before eventually downsizing to something smaller.
In Brisbane, buyers have traditionally preferred houses and this trend is continuing.
A snapshot of the Brisbane property market
Right now, Brisbane is a two-speed market. Demand for housing is pushing house prices up, while concerns of an apartment oversupply have caused average apartment prices to drop.
The latest figures from the CoreLogic Home Value Index reveal that apartment prices have decreased by -3.2% in the last year. House prices are trending in the opposite direction, growing by 4.3% in the last 12 months.
This appetite for housing together with the First Home Owners' Grant incentive has seen more buyers building new homes. So far this year, building approvals for houses are up by 2% and the number of approvals for June was the highest on record since August 2007.
It's not only about houses – townhouses are starting to grow in popularity. A recent survey by Place Advisory found that almost a quarter of its buyers were looking to purchase a townhouse.
Brisbane real estate in numbers
Average property prices
Houses: $540,758
Units: $425,000
Rental yields
These median prices are well below those of Sydney and Melbourne, making Brisbane one of Australia's most affordable capital cities. And despite a decline in price growth, units are outperforming houses in terms of rental yield, which is capturing the attention of investors.
So what's in store for the future?
Brisbane's population is expected to reach 3 million by 2031. The current population of 2.4 million residents is so spread out that Brisbane is ranked as the third-largest city in the world by geographic size. Eventually this sprawl will need to be contained, and this will call for more high-density living in the form of apartments and townhouses.
A number of property experts believe that the current supply of apartments will be purchased within the next two years, after which time a correction will occur and prices will stabilise in this part of the market.
When compared with property markets around the rest of the country, Brisbane is predicted to offer more stability when interest rates eventually start to increase again. This is because both houses and apartments are more affordable than other capitals, which means that buyers are less likely to be over-extending themselves.
Blue chip suburbs are expected to continue to perform well, with growth also tipped for the middle-ring suburbs within 10–15 km of the CBD. The QBE Australian Housing Outlook Report 2016–2019 forecasts that the median house price in Brisbane will rise by 6.5% between now and mid-2019. Comparatively, by 2019 Sydney's median house price is expected to rise by just 0.2%.
When deciding which type of property is right for you, research is the key to making a decision you are comfortable with. Right now Brisbane property is attractive for its affordability and forecast stability. For more information on buying property, see our guides on property research and choosing an investment property. – Luke
Related: Brisbane property market in review 2016
0419 733 862 | luke.cashin@mortgagechoice.com.au
Your Garden City Mortgage Broker in Mount Gravatt, Brisbane
Follow on Facebook