February 23, 2017
Melinda Halloran
A home might be forever, but your home loan doesn't have to be. No matter what your financial situation is, there are a number of ways to get ahead on your home loan without feeling a severe strain on your budget.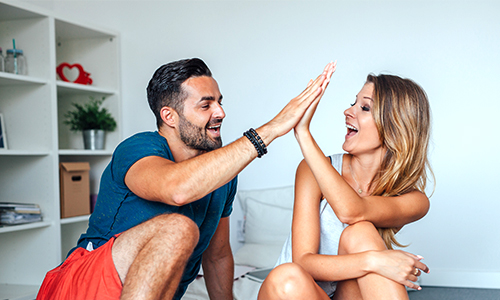 If you are dreaming of the day when your mortgage is paid off, why not try to make that dream come to fruition a little sooner? With these tips, you can reduce the amount of interest you pay on your home loan, which can shave years off your mortgage. 
1. Make more frequent payments
Monthly repayments are standard for most home loans. Most lenders, however, will let you make more frequent repayments, and this is probably the single biggest thing you can do to slash the term of your mortgage.
Try pairing your repayments with your payday – so if you get paid fortnightly, make fortnightly repayments, or if you get paid weekly, make weekly repayments. This not only reduces the interest accruing on your loan, it also works out to be an extra monthly repayment each year, and you won't even have given it any thought.
2. Make extra repayments 
Most mortgages will also allow you to make additional repayments on top of the minimum repayments, shaving thousands of dollars and years off your home loan. You can do this in big and small ways:
Add a little extra on top of your usual repayment. Simply giving up a couple of takeaway coffees a week (say $10) and putting that towards your loan could save you over $24,000, and one and half years on a $350,000 mortgage over a 30-year term (with a 6% interest rate).
Deposit any large lump sum amounts straight into your mortgage, such as your tax refund or share dividend payment, for a rapid acceleration on loan savings.
3. Maintain your repayments when rates are low

The Australian market has seen official interest rates decrease a number of times over the last few years and rate cuts are usually passed on to borrowers.
When this happens, try to maintain your repayments at the pre-cut amount. You won't miss the difference and those extra contributions will give you a buffer when rates rise.  
4. Use an offset account

An offset account is a savings account that works by subtracting or 'offsetting' the balance of that account against your loan.
On a $500,000 mortgage with $80,000 in an offset account, you would only pay interest on the balance of $420,000. This can really shrink the total interest paid over the life of your loan.
5. Get a mortgage health check

If you've been in your home for a few years, it's probably time to consider a check-up with a mortgage specialist. As your life circumstances change (such as a new job, baby or pay rise) alternative features may suit you better. 
As a rule of thumb, you should take a look at your home loan every couple of years to see if there's a better deal out there for you. What seems like a small saving on interest when you refinance will make a big difference over the life of your home loan.
Related: Should you refinance your mortgage?
6. Establish good habits early
Look for ways to get ahead on your loan early in your mortgage, as this is when you pay the most interest. The sooner you start paying off the principal, the less you'll pay overall, and the shorter your mortgage will be. 
Stay motivated by using online calculators to see how you're tracking with your repayments – you might be pleasantly surprised to see just how much those extra repayments have saved you!
While it's easy to take a 'set and forget' approach to your mortgage, this could mean that you end up paying too much in interest. Paying a mortgage off early is possible, and you'll be surprised at what a difference the small steps outlined above can make to the size and term of your loan. – Luke Cashin 

0419 733 862 | luke.cashin@mortgagechoice.com.au 
Your Garden City Mortgage Broker, Brisbane 
Follow on Facebook