February 07, 2017
Melinda Halloran
An iconic part of the Brisbane landscape, the Queenslander is a prized piece of real estate. But what should you expect when preparing to renovate one and bring it into the modern day?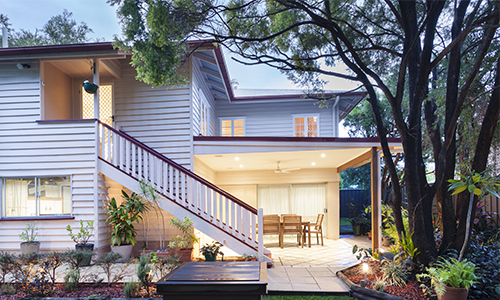 It's hard not to be charmed by the character of Queenslanders. They're a slice of history with features like large verandahs and timber floors. And for many buyers, the added appeal of Queenslanders is that they were built on larger blocks of land than new houses are.
Local architect Anna O'Gorman explains that Queenslanders are an important part of local architecture. "The Queenslander house originated in the 1860s," she says. "Typical features include four or six rooms around a central corridor, raised on stumps, deep wide verandahs, large steep pitched roofs and ornate breezeway detailing."
Given the age and distinct style of Queenslanders, renovating them is not always the same as other properties. Here is what you need to know when updating one of these iconic homes.
The unique considerations of renovating a Queenslander
When it comes to Queenslanders, there are a number of invisible renovations that may need to happen in addition to cosmetic updates. These include:
Removing asbestos
Restumping the foundations
Adding insulation to the ceiling
Replacing wiring and plumbing
While a home may look presentable on the outside, it's not always easy to identify how solid the foundations are. By paying for a pest and building report, you can make an informed decision about purchasing a home.
Many Queenslanders are heritage listed, so you will also need to check what this means for you when renovating the property. Homes are heritage listed for a variety of reasons and the specific listing will affect what you can and can't do when renovating.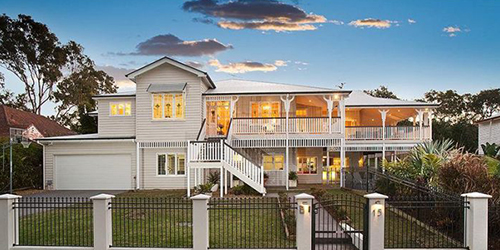 Raising Queenslanders is a popular way to expand your living space. Image via Pinterest.
To find out more about the home Anna O'Gorman, recommends looking for historical information including photos, survey records and newspaper clippings, which can be found in the John Oxley Library. If you want to learn more about Queenslanders in general, she recommends reading The Queensland House by Ian Evans.
She also says it's important to plan ahead before you start the renovation process. "To ensure a smoother process during construction, it's necessary to plan ahead and be aware of the pitfalls," she explains. "That way caution can be taken and issues can be swiftly and confidently dealt with."
Planning and consulting professionals such as architects and builders is particularly important when renovating a Queenslander, as they often have a number of pre-existing unknown conditions that can cause issues if you don't identify them early on.
Opening up living areas
Queenslanders in their original condition are likely to have a number of smaller, dark rooms. Today, however, open-plan living is far more popular and suited to the relaxed Queensland lifestyle. By removing a few key walls between living areas, you can open up the home to let more sunlight in and maximise space. Doing so can also promote the flow of air through the home, helping to keep it cool in the summer months.
Replacing old doors with glass sliding doors and larger French doors is another great way to let more light in and to integrate indoor living areas with outdoor verandahs.
Given that Queenslanders are raised, many home owners take the opportunity to increase living area by building in underneath. This gives you an opportunity to build in a rumpus room or even a self-contained area for guests. When doing so, be mindful of the legal height – Brisbane City Council has more tips for altering character homes.
Making the house your own
Once you have addressed the foundational requirements of your renovation, you can focus on the look and feel of the home. Tearing up old carpet will often reveal original timber floorboards that can be polished, while VJ walls look great with a fresh coat of paint. Features like rugs and lamps are a great way to warm up areas with timber flooring and to break up open living areas.
Queenslanders are light and breezy and, for that reason, a neutral colour scheme is popular with renovators. By adding features like shutters to your verandah, you can ensure you can comfortably spend more time outside.
Other considerations you will need to take into account include budget, timeframe and when DIY is simply not worth it. Read our renovating guide for tips on how to manage the process.
Share your experiences
Have you renovated a Queenslander? Share your experiences in the comments below. – Luke Cashin
0419 733 862 | luke.cashin@mortgagechoice.com.au
Your Garden City Mortgage Broker, Brisbane
Follow on Facebook