January 05, 2017
Melinda Halloran
There's something about the start of a new year that puts you in the mood for change, so why not start with your home? There's no need for extensive renovations or to blow the budget – each of these five key trends can be adapted simply and cheaply with a few clever ideas.
1. Greenery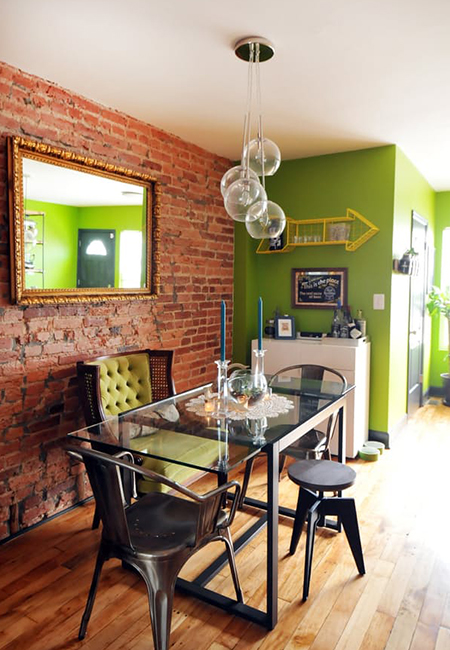 Image via Apartment Therapy
'Going green' will be a hugely popular trend this year. Green in all its shades evokes the outdoors, which is very calming indoors. In fact, Pantone (a global authority on colour) named 'Greenery' as its 2017 Colour of the Year for symbolising the growing desire people have to reconnect with nature, each other and themselves.
The green look is easily created by grouping indoor plants together in bright spots around your home, or you can try painting furniture or a feature wall in a calming shade of green.
2. Earthen materials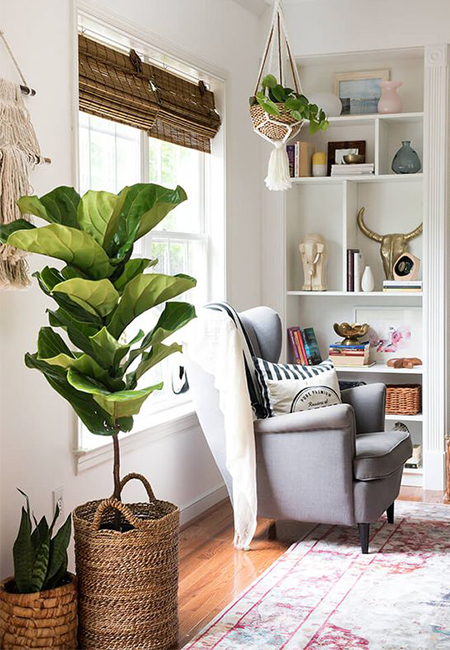 Image via Shelterness
The move to invite nature indoors extends to the use of organic materials such as dark wood, terracotta, wicker and cork. These simple, ordinary materials create a contrast of textures. This adds interest in your living areas, making them warm and welcoming.
This trend is an easy one to adopt and can be as simple as using the following around the home:
Woven baskets for storing towels, toys or other household items
Terracotta pots on your balcony or courtyard
A large kitchen corkboard to pin bills, photographs and takeaway menus
Dark wood frames for prints and artworks
3. Jewel tones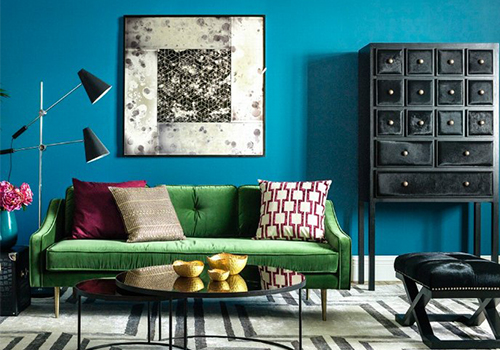 Image via The Life Creative
Expect an explosion of colour this year. Interiors are moving away from a restrained all-white, minimalistic style toward more use of colour – particularly jewel shades such as amethyst, jade and sapphire. Combined with fabrics such as silk and velvet, this trend adds a level of luxury to your home.
Here are some easy ways to add pops of jewel colours to your home:
Hang textured or sheer curtains in your bedroom
Add cushions or a throw rug to your sofa
Install an upholstered bedhead (or have a go at making your own)
4. Explorer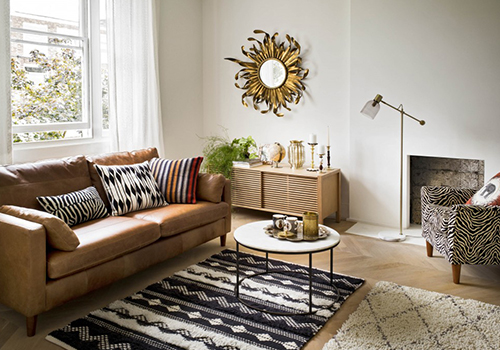 Image via The Culture Trip
Australians are great travellers and showcasing the artistic objects you have collected is a great decorating idea. It brings a sense of exoticism to your space and makes it more personal – a sure way to start conversations with guests about your adventures.
Experiment with some of these ideas to highlight your inner explorer:
Group travel photographs together in similar frames
Make cushions out of tribal fabric
Display a small collection of seashells in a jar
5. Slow design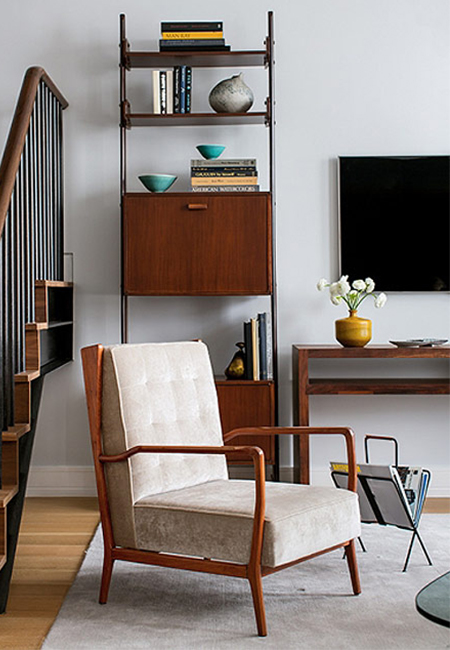 Image via Plastolux
In an escape from our digitally saturated life, more people are seeking out objects made by hand. This is reflected in the continued appreciation for handcrafted and mid-century furniture, as well as hand-carved utensils and ceramics. People are once again valuing the care and skill required to make furniture and objects.
Some ideas to try to embrace the slow design movement are:
Buy artisan wares at local markets
Invest in a classic Australian mid-century furniture piece such as a Parker dining table (look for them on eBay or Gumtree)
Hold on to that piece of furniture that's been in the family for years
Related: Ready to renovate? Here's what to expect
The start of the year is a great time to make sure you get the most out of your time at home. If you are planning to renovate or redecorate this year, I hope these trends get you inspired.
– Luke Cashin
0419 733 862 | luke.cashin@mortgagechoice.com.au
Your Garden City Mortgage Broker, Brisbane
Follow on Facebook