April 04, 2017
Melinda Halloran
There's a lot of jargon to learn when buying property. One real estate term often used by agents and the media is 'blue chip suburb', but what does that really mean? And – more importantly – is a blue chip suburb right for you?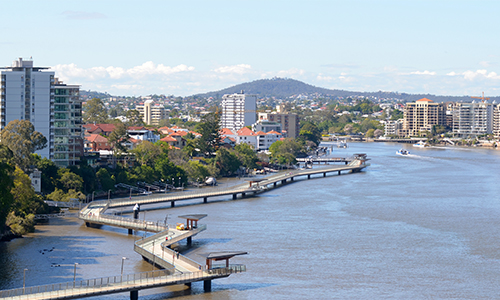 Blue chip suburbs are often used a selling point when it comes to real estate. These are locations that are well established and have consistent demand from buyers, making them relatively stable when compared with the rest of the property market. While blue chip suburbs will still fluctuate, they tend to experience minimal losses during downturns in the property cycle.
Characteristics of a blue chip suburb include:
Located within 10 km of the CBD
Well maintained lifestyle amenities including parks
Plenty of shopping, dining and entertainment options
A well-established property market with at least ten years of property data
Easy access to public transport and major arterial roads
Located in the catchments of good schools
Consistently high buyer demand
What are the advantages of buying in a blue chip suburb?
Blue chip suburbs are considered to be low risk on the property investment scale. While these areas are typically more expensive, they are more likely to provide steady growth over the long term. This is due to consistent buyer demand, which ensures demand is consistently higher than supply.
High buyer demand in these areas is largely due to the lifestyle that's on offer. For owner-occupiers, lifestyle is an important consideration and often something they are willing to pay for.
This is in contrast with an area where gentrification may only just be starting or a suburb that is newly established and doesn't yet have a proven history of growth. These types of areas are more likely to appeal to buyers and investors who want faster capital growth or first home buyers looking for affordable property.
Related: How to identify a growth area
Where are Brisbane's blue chip suburbs?
Given that blue chip suburbs are well established, many prestige areas fall into this classification. In Brisbane, blue chip suburbs include Ascot, New Farm, Bulimba, Norman Park, St Lucia, Graceville and Paddington. Interestingly, many of these suburbs are characterised by their proximity to water and high proportion of Queenslander architecture.
Given that Brisbane's population is growing, there are now a number of emerging blue chip suburbs that are more affordable. Late last year Australian Property Investor magazine released its list of affordable blue chip suburbs, with Mount Gravatt East, Greenslopes, Morningside and Wavell Heights making the cut. These are all longstanding suburbs that are well connected to the CBD and boast growing lifestyle appeal.
Related: Brisbane southside's top performing suburbs
Should you buy property in a blue chip suburb?
Whether you buy in a blue chip suburb or not will depend upon a number of factors, including your budget and lifestyle. For some buyers, Brisbane's traditional blue chip suburbs are out of reach financially, but that doesn't mean you can't look at nearby areas that are likely to shoulder buyer demand. Mount Gravatt East is a great example of this – as buyer demand expanded south to Holland Park, buyers are now looking for nearby areas that are well established and fulfill criteria including access to public transport and housing affordability.
Ultimately, where you buy property will depend upon your investment strategy, lifestyle goals and budget. For more tips, see our guide to property research. – Luke
0419 733 862 | luke.cashin@mortgagechoice.com.au
Your Garden City Mortgage Broker, Brisbane
Follow on Facebook