I am here to help you with your home loan needs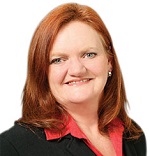 Lynne Porter
Lynne grew up in the outer western suburbs of Sydney and has been a resident of the Blue Mountains for the past 30 years. She has been active in her local community over that time, both with sports and other groups.
Being married to a builder for more than 20 years, and having built her own home, she knows first hand about financing the construction of a home, both for the builder and the home owner.
With qualifications in a number of different areas, Lynne's wealth of work experience includes
working for a major bank
leading a project to assess, develop and implement new systems for a financial organisation,
several years as a registered tax agent and accountant.
In more recent years, Lynne has acquired a number of investment properties. She has been successful with her investment in property, and the July, 2008 issue of Australian Property Investor includes an interesting article about her property investment experiences.