"Whatever I say about my experience with Martin will not be enough. From day one, Martin advised me of all the options that would suit my needs. Once I chose the product everything moved very fast. The whole transaction took 10 days for settlement to be completed - hassle free."

[ Adel & Lydia, Epping ]
Our team has been helping the Rosanna, Ivanhoe & Heidelberg community for over 10 years. Our experienced team have one goal in mind - finding the right home loan or financial strategies for you. Call us on 0419 587 863 to get started.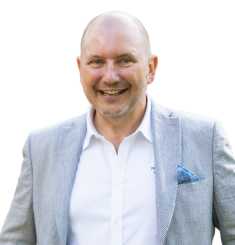 Martin Reichert
Owner | Mortgage broker
Martin is particularly passionate about helping people find the right loan at the right rate, knowing what a difference that can make to a familys or individuals budget and lifestyle.
"As a homeowner and property investor myself, I know how difficult the loan process can be. I am here to help you through the process to make it as easy and stress free as possible. I have lived in the Rosanna & Ivanhoe area most of my life and have a thorough understanding of the local market."
Email Martin | Connect with Martin on LinkedIn |0419 587 863
Nina Martinez
Loan Administrator
After 4 years in the finance industry as a packager and administrator, Nina is the person who makes it all happen behind the scenes! As part of the team at Mortgage Choice Rosanna, you'll hear from Nina to get your documents and application in order with your chosen lender. She will then follow up with them to make sure your loan is moving along - so you can spend your time finding the right property!
"I like to think: what if I was in the client's shoes and it was me buying a home? Sounds exciting! But I know just how complicated the bank requirements can be. This is where I know we can make the most difference, by minimising the pressure on the client and make the home buyer process go as smoothly as possible."
David Taylor
Financial Adviser
Having worked in the Financial Planning industry since 2000, David brings a wealth of experience to the team and our clients. He works with people who want to make the most of their income, get their insurance up-to-date, build wealth both inside and outside of superannuation and have a solid retirement income.
"There's not many jobs out there in which you get to sit down with a client and map out the financial goals they want to achieve throughout their life - and then put together a plan to help them hit those goals. It's a pretty amazing feeling watching a client become less reliant on their paycheck, or live out their dreams in retirement."