August 10, 2017
Marvin Coleman
I like this article by Redom Syod, published a few days ago by Australian Property Investor. It outlines how different banks are currently determining your borrowing capacity. In essence, this will be a multiple of your income less your expenses - but the multiplier and the surplus can vary between lenders.
Syod summises that there are three classes of lenders, from low to higher risk appetites for risk. The graph below depicts how much these three lender types might be willing to offer you, based on their different assessments of the same information. Where "APRA calculator" lenders rapidly restrict their further lending if you have sizeable debt, "Aggressive Calculators" might remain open.
To me, this perfectly depicts the need to have a clear Debt Strategy particularly if you want to run a Property Investment portfolio. If you want mortgages on multiple properties, you need to plan carefully which lenders you work with and how and when you approach them for debt. You need to "start with the end in mind".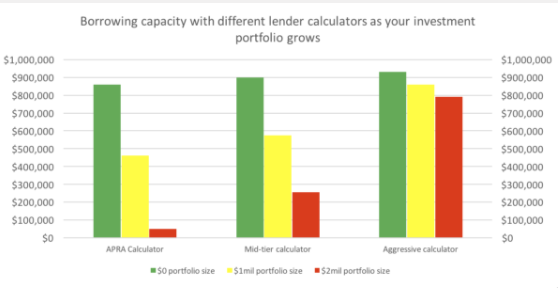 My expertise is to understand these strategies and needs and the changing moods and policies of lenders, to choose the best provider(s) of debt for you and your properties at any given time.
I'd love to work with you, to help achieve your Property Investment Strategy goals. When you're ready to discuss them, please give me a call.
Cheers, Marvin