This week's blog is simple and to the point, Thank you to all my excellent clients and referral partners, business associates, and to all who helped me get through 2015.
As your local mortgage broker, this year has been challenging on many fronts, and I'd like to think I've risen to them all and came out better for it.
The newspapers and media will continue their doom and gloom on finance and the property market, but I know the joy that's out there currently, and the opportunity in front of us all. It just takes a little looking some times. So go forth with open eyes my friends, it's amazing what can be seen.
From the team here at South Perth, Tyson, Evette, Jorrie, Nicole, Vikki and myself, Thank you once more, and all the best for your Christmas and New Years activities!
Merry Christmas and a Happy New Year to all!
I'll leave you with a quote from Dr. Seuss, always a favourite with my daughter and I.....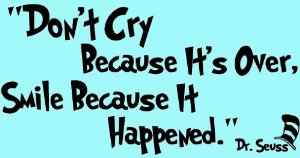 nathan.bottrell@mortgagechoice.com.au. Or get in touch with us socially on Facebook and send us a message there.