Your local Mortgage Broker in Mitcham & Happy Valley | Nicolle Steinert
With over 20 years of home loan experience and over 20 lenders to choose from, Nicolle at Mortgage Choice in Happy Valley will help you find finance that fits your next property purchase.
Colonel Light Gardens
5.0 (92+ total reviews)
Aggregated from:







Call Us

Mortgage Choice Colonel Light Gardens

Office - 0411 154 185
Open Hours

Mortgage Choice Colonel Light Gardens

Monday - Friday: 9:00 am - 5:30 pm
After hours by appointment

Free Appointment
Address
2/501 Goodwood Road
COLONEL LIGHT GARDENS,

SA

5041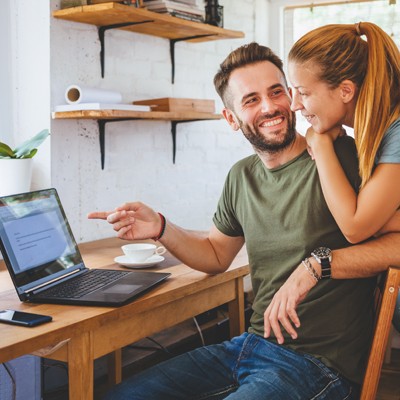 Latest home loan interest rates
With over 20 years of finance experience, Nicolle from Mortgage Choice Mitcham will help you find finance that fits your next purchase.
Whether you're looking to buy a new home, an investment property, or would like to explore the possibility of refinancing, our team in Mitcham & Happy Valley have the expertise you can trust. 
Start your home loan journey today
We'll help you find the right loan
Your finance and property goals are unique. With a diverse range of competitive loans from over 20 lenders, our team at Mortgage Choice in Happy Valley can help you find a home loan to support your unique plans. 
Our first step will be to discuss what's important to you. Then, we'll do the research and comparison from our panel of lenders, including Australia's big banks and a selection of specialist lenders, to find one that will suit you.
Having such a wide range of loans to choose from means you will likely save both time and money. It also means that your home loan will match your life, with features like offset accounts and portability, so you can save money in the long term.
We'll save you money by doing the research and shopping around for you.
We'll do all the work for you
Don't worry about putting together your documentation and filling out application forms. Mortgage Choice in Happy Valley will do it all for you! From ensuring your home loan application is structured correctly, to applying for incentives and cashbacks you are eligible for, our team take the hard work out of finding the right finance.
We will submit the loan application on your behalf, and manage the sales process with the lender right through to settlement. Our team will keep you updated on the progress of your loan, and regular check-ins with your bank. 
You won't spend hours on the phone to your bank. We'll give you regular updates on how your loan is progressing. 
Nicolle can help with:
Home loans

First Home loans

Investment loans

Refinancing

Car loans

Business finance

Equipment lending

Insurance

and more! 
We don't charge for our home loan service
Like other mortgage brokers, we don't charge you for our home loan service. That means you can enjoy our assistance with your home loan at no cost. But we are passionate about providing transparent service that results in the best outcome for you. 
We'll find finance that fits
Our entire business is focused on finding the best financial outcome for our customers. Whether you're an experienced property owner, an investor or a first home buyer, Nicolle has the knowledge and passion that can help you achieve your financial goals.
I can meet you at our office 2/501 Goodwood Road, Colonel Light Gardens or I am mobile and can meet you at a time & place that suits you. 
Contact Nicolle 0411 154 185 to arrange a no-obligation meeting and discuss your home loan options.
Our team service the Happy Valley & Mitcham area including Westbourne Park, Clovelly Park, Bellevue Heights, Blackwood, Belair, Torrens Park, Cherry Gardens, Aberfoyle Park, Meadows, Colonel Light Gardens and surrounds. 
The right home loan for your needs
Our mission is to find the right home loan for your individual needs and to always have your best interests at heart. Plain and simple. Which is why we have such a wide range of lenders to choose from. We can search through hundreds of products to find something tailored to your situation. ~
Client reviews
I have refinanced and also applied for a new home loan with Nicolle. She has been an absolute dream to work with. Explains things to me very clearly and takes time to answer my many queries. Very professional and I highly recommend her expertise and service. Would give more stars if I could.
Nicolle and her team are absolutely brilliant . Her negotiating power on our mortgage rate and facilitation of a very swift settlement was above and beyond. We feel reassured to be an ongoing client of Mortgage Choice and appreciate the quality of referrals to other financial services in her network as well. Highly Recommended
Nicolle was so helpful with the process of applying for finance. She found me the best option and kept me updated every step of the way. She took the stress out of buying my home. Highly recommend Nicolle as a mortgage broker. BIG Thumbs up
We purchased our first home through Nicolle and she was outstanding. We had very limited understanding of what was involved when buying a home and Nicolle took the time to explain everything. She made sure we were connected to the right people and took all the stress out of the process. She was generous with her time, attentive and supportive. We highly recommend using Nicolle when buying a home
Highly recommend Nicolle. Genuinely outstanding customer service that is hard to come by these days. Extremely knowledgeable in her field of work. She goes above and beyond to not only get you the best fit for your personal circumstances, but to answer any questions you might have regarding the entire process. She also has a very wide network of trusted accountants, Conveyancers, property manage... read more
Nicolle went above and beyond..was so helpful and professional
Fantastic broker , highly recommend
Fantastic work with Nicolle, very accommodating for my work schedule and she is very professional. I understood every part of the process and I felt very comfortable asking questions when in doubt. I would highly recommend Nicolle and her fantastic services. I am fully satisfied with the whole process.
My business partner and I asked Nicolle to help us with an investment loan and also a separate commercial loan for our medical practice business. Her approach, application to the job at hand and effectiveness in negotiating on our behalf have been nothing less than absolutely outstanding. Nicolle provided the type of exceptional service that is not all that easy to find these days. This was a di... read more
Nicolle has been nothing less than extraordinary in her services to us. From the very start, Nicolle has been honest, reliable, accurate and always keeping us informed along the journey. There were never any surprises and her cheerful disposition and friendly nature always made us feel respected and trusted. We highly recommend Nicolle for any financial mortgage advice.
Step-by-step Guide to Property Ownership
There are many steps involved in purchasing a property which can vary between residential and investment properties. This guide explains each step in order as well as what is involved at every stage of the purchasing process.