Blog
Get Prepped for your Penrith Home Loan Application
Are you in the market for a new home? Whether you are buying an investment property or a place to call home, congratulations is definitely in order.
Buying property is an exciting and rewarding experience.
Of course, if you have never bought property before, you may be feeling slightly overwhelmed by the journey that's in front of you. But there is no need to stress. At Mortgage Choice in Penrith, we have you covered.
In this article, we will step you through all of the things you need to know and do in order to be home loan application ready.
Step 1 – Get your savings in order
Before you even start house hunting, it is important to look at your budget. How much money do you have in savings? Ideally, most lenders would like you to have at least a 10% deposit plus costs.
In other words, if you are looking to buy a home valued at $500,000, some lenders would like you to have savings of around $50,000 plus enough to cover any other fees and charges you may incur throughout the home loans process.
What are the other fees and charges? Good question.
When it comes to buying a home, the true cost of the property is more than what is listed on the price tag.
Some of the common extra costs associated with buying a home include conveyancing and legal fees - which could set you back over $3,000; pest and building inspections; mortgage registration and transfer fees; loan application or establishment fees; and stamp duty.
Thankfully, if you are buying a new or existing property in New South Wales up to the value of $650,000, you may be able to take advantage of the state Government's stamp duty exemption initiative.
A duty concession also applies to new and existing homes valued between $650,000 and $800,000.
If you are not eligible for the first home owner's stamp duty exemption or concession and you don't have a 10% deposit, don't fret. There are other options available to you.
You may have a parent who is willing to provide you with a cash gift or guarantee your mortgage.
Alternatively, there are lenders that are willing to lend up to 95% of the value of a property. And, as a mortgage broker with access to hundreds of home loan products via our panel of lenders, we will be able to find you a home loan solution that meets your needs.
As your mortgage broker in Penrith, we can talk you through your deposit options and help with concessions or stamp duty exemptions you may be eligible for.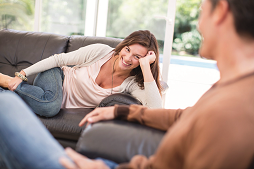 Step 2 – Understand budgeting
When applying for finance, a lender will need to know what your living expenses are.
Why?
Well, your lender needs to know how much you spend each month in order to work out whether or not you will be able to comfortably afford your future mortgage repayments. The higher your living expenses, the less you will be able to borrow.
So, before you apply for finance, it is worth taking a look at your everyday living expenses and seeing where you may be able to cut back. Are you currently spending a lot of money on eating out or a gym membership that you never use? Why not think about cutting back or cutting it out of your life altogether. Reducing your spending in the lead up to applying for finance will also help you to grow your savings faster – which you can ultimately put towards your home deposit.
Part of our service is to help you work out what your living expenses are. Give us a call on 02 4789 0808 or email paul.holland@mortgagechoice.com.au and we can send you a copy of our living expenses calculator.
Step 3 – What does your credit file look like?
In addition to understanding your spending habits, your chosen lender will also want to know what debts and liabilities you have.
Do you have a car loan? A credit card? A personal loan? When applying for finance, it is critical that you outline all of your assets and liabilities to your lender.
Further, your chosen lender will want to know what kind of borrower you are. Ask yourself: have you missed a few credit card bills or telephone payments? Do you have any personal debt that you are struggling to pay down?
The reality is, your credit conduct can impact your ability to obtain finance. While it is not the end of the world if you have missed a debt payment or two in the past, consistently poor credit behaviour may stop you from having your application for finance approved.
Before applying for finance, it is worth looking at your credit history. We can order a credit report for you and help you work through any challenges.
Step 4 – Stable employment
Your chosen lender will want to see that you are in stable employment. Ideally, you will have passed probation and been in the role for a while.
Of course, there are still plenty of options available to you if you have just joined a company. We can help step you through your lender options and work out which home loan product may suit your unique needs.
And we don't just help PAYG borrowers. If you are running your own small business and seeking finance, make sure you give us a call.
We work with plenty of lenders who offer great products and rates for small business owners.
Step 5 – Shop around
Finally, when applying for finance, it is critical you do your due diligence and find a lender and product that is going to suit your unique set of circumstances.
At Mortgage Choice in Penrith, we have access to hundreds of home loan products from our panel of lenders. Further, we do all of the research and leg work so that you don't have to. We will step you through the home loan application process, and find you the right finance solution for your needs.
If you are in the market for a home, make sure you give us a call today on 02 4789 0808 or 0410 787 607 or call in to our Nepean Village office.