September 28, 2017
Paul Holland
Refinancing your home loan to renovate a property is a significant decision, that will hopefully improve your standard of living or, add substantial value to your property.
Refinancing isn't as straightforward as you might expect. The type of renovation that you want to do goes a long way to dictating the loan required. If you select the wrong loan, you could be left with a pile of unexpected debt.
Know your budget
Before considering refinancing, you need to have a clear idea of your budget.
If you underestimate your budget, you run the risk of getting knocked back from your lender, according to Paul Holland from Mortgage Choice Penrith.
"I know a lot of homeowners who have estimated a budget of say $100,000 to do renovations, only to discover it will cost a lot more," Paul says
"This means you may have to reapply for the loan, which banks generally don't like."
"Try to get as much of the work quoted using conservative estimates before committing to anything is ideal, the key is to stick to your budget," adds Paul.
Once you are happy with the estimate of funds required for the work, the next step is to speak to your broker to determine which loan will suit your needs and objectives.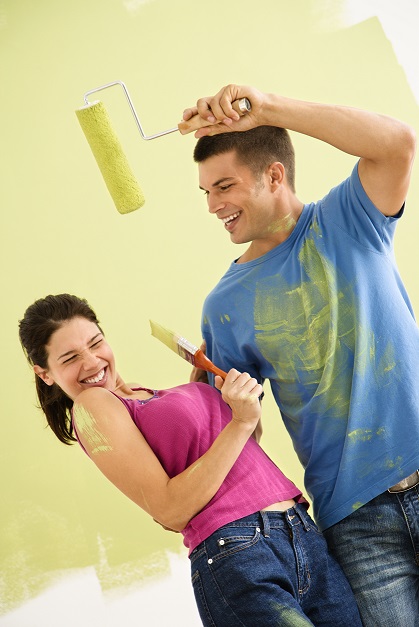 Home equity loan
Also known as a 'cash out', to be eligible, you must be looking to make non-structural renovations to your property.
Installing a new bathroom or kitchen, painting the interior or exterior of the house and other basic renovation work falls under an equity loan.
These renovations, more often than not, do not supersede the costs of structural changes, so homeowners can call on up to 80 per cent of their property value. Loan-to-Value Ratio (LVR).
To calculate the value you can borrow, subtract your current loan balance from your property value and then multiply by 80 per cent. For example, if your property is worth $500,000, and you have $250,000 left on your loan, your home equity is $250,000. You then multiply this total by 80 per cent. If you're uncertain of your home value, contact Paul from Mortgage Choice Penrith. He can assist you to arrange for an appraisal or valuation of your home.
If you choose an equity home loan, you can also use it to purchase a car, family holiday, rental property or other investments.
Keep in mind, when money is released for whichever purpose, it doesn't all need to be spent at once. If your loan has a variable interest rate you would normally have access to an offset account or redraw facility to hold the funds until needed and you won't be charged interest on that portion until the money is spent. Call Paul on 02 4789 0808 or drop in to our office at Nepean Village to find out more.
Construction loans
Construction loans are suitable for structural work in your home, for example, if you're adding a new room or making changes to the roof.
Construction loans give homeowners the opportunity to access larger sums of money, with the amount dependent upon the expected value of the property after renovations are completed. This can help if you have limited available equity. Interest is also calculated on the outstanding amount, not the maximum amount borrowed.
When applying for a construction loan, council approval and a fixed price-building contract are required along with some other building documents like an acceptable progress payment schedule, your mortgage broker can help with the specific requirements of your selected lender.
Your lender will appoint an assessor to value your construction at certain stages of the renovation. This will happen before you pay your instalment. When construction is complete, speak to Paul at Mortgage Choice Penrith as you may be able to switch or refinance back to the loan of your choice.
When looking at both these loans, Paul says consumers can call on other property they own to boost their overall borrowing amount if they wish.
"Depending on the client, they can use other property owned to use a combination of an equity loan and a typical construction loan." Paul says.
Tips for talking to your broker about the right home loan
If you speak to your broker they will be able to determine which loan will give you the options you need. This advice is essential, as a poorly planned construction loan could cost you more down the road.
"Consumers should ask their broker, 'What type of loan is most suitable?', because if you don't get your construction loan right, you may add unnecessary stress to the renovation process." Paul says.
If you need to speak to a broker in the Penrith area, call Paul on 02 4789 0808 or drop in to our Nepean Village office to make your grand renovation plans a reality.